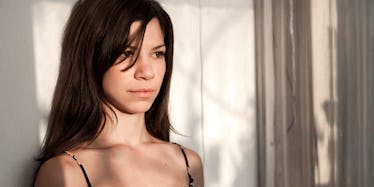 Therapists Explain How To Get Over 5 Insecurities That Can Affect Your Relationship
Unfortunately, we aren't at a point yet when humans can mind-read each other's insecurities and automatically help each other handle them. That'd be nice, huh? If you're dating someone, there's a chance that your insecurities may at some point become heightened. If you're thinking about how to get over insecurities in a relationship, the next step will likely involve some form of communication and self-awareness. Yes, sometimes we have to be adults. And adulting involves advocating for yourself and your discomfort, compromising in certain situations, and sometimes, being willing to admit when you're wrong.
"No matter the topic ... it's really important to look in the mirror and seek to understand why our insecurity has been triggered," therapist Tiffany Ashenfelter tells Elite Daily. She suggests that you ask questions such as, "When [or] where has this been felt before, when [or] where was the first time this insecurity was felt? Why is it coming up right now?"
Ashenfelter says that asking these questions can prompt you to realize that your "partner may not be doing anything wrong," leading you to resolve your feelings faster.
As most people will tell you, communication is key. Psychotherapist and women's support group facilitator Allison Abrams says that confronting your insecurities with your partner can help to build intimacy. And also, your insecurities may actually have nothing to do with you current partner — if you feel these issues have stemmed from a past partner, consider reaching out for help, and possibly considering talking to a therapist to get to the core of your insecurities.
If you're dealing with insecurities in your current relationship, read on to learn how to handle them.