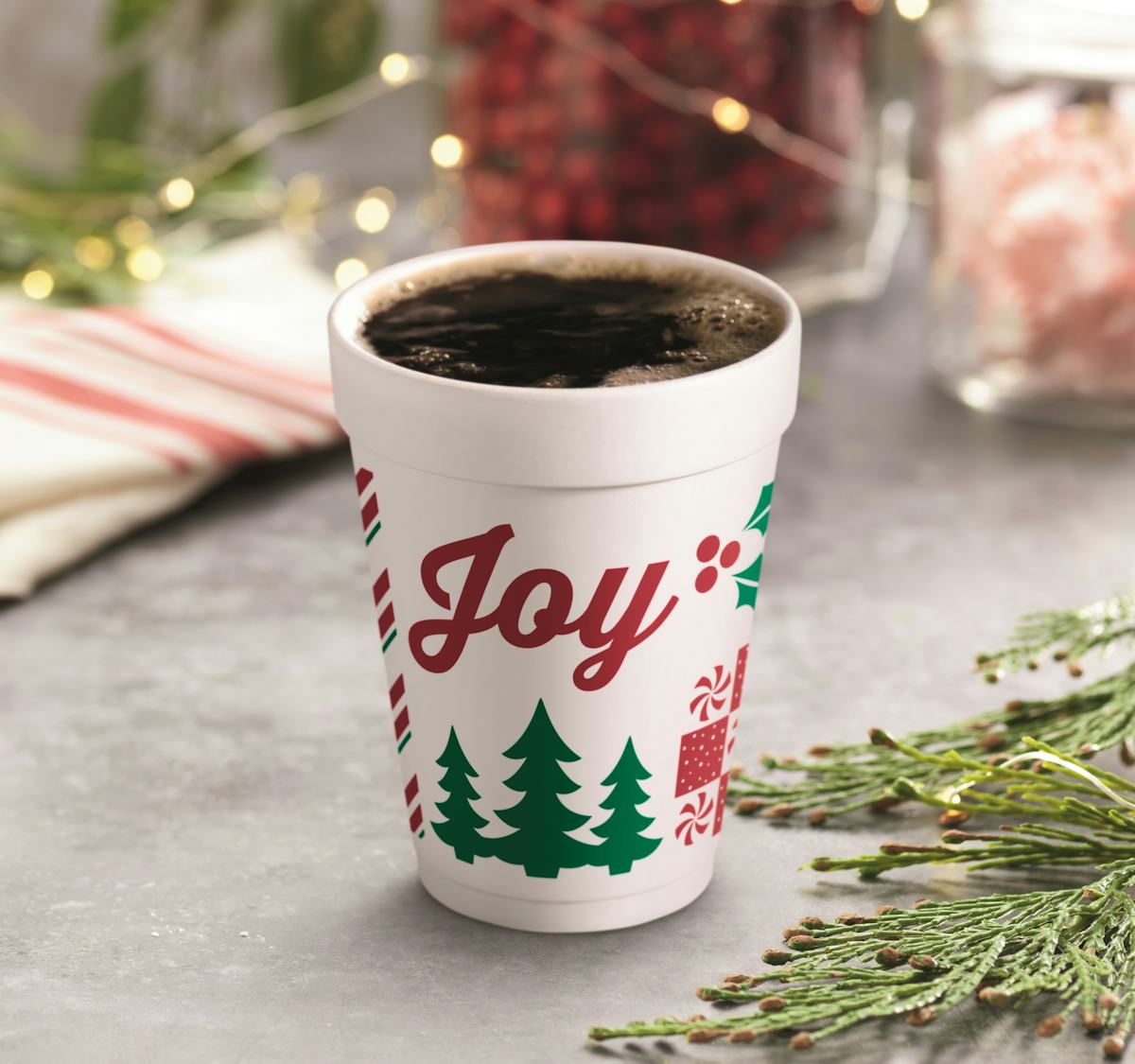 Dunkin' Donuts Is Giving Away Free Coffee In December For An Amazing Cause
Everyone knows a cup of coffee makes chilly winter mornings a lot more enjoyable, but do you know what's better than regular coffee? Free coffee. Thankfully, Dunkin' Donuts understands our caffeine needs (and empty wallets). The company is being extra generous this year and is giving away free medium-sized cups of coffee at select Dunkin' Donuts locations on weekdays in December. Before you frantically search how to get free Dunkin' Donuts coffee in December, let me give you the lowdown — because your local DD may or may not be serving up the freebees.
First thing's first: Why is Dunkin' Donuts even giving away free coffee? Well, their reasoning is a lot simpler than you might think. According to the company's press release, Dunkin' is feeling super grateful for its community and costumers, so they're serving free coffee as a token of their appreciation and as part of their "Brewing Joy" program. The Brewing Joy program will allow select Dunkin' Donuts throughout the country to give away up to 500 medium cups of coffee on weekdays between Dec. 1 and Dec. 20. Yes, that means you might be able to start your morning with a free cup of coffee if your local Dunkin' is participating in the program.
So, which Dunkin' Donuts are serving free coffee?
Thankfully, you won't have to wonder if your local DD is serving free coffee in December. The company announced the exact locations that will be "brewing joy," and you can check out the complete list here. More than 40 locations are participating, which nearly doubles the amount of stores from last year. The program will start on Dec. 1 in Mount Joy, Pennsylvania (so clever).
Cross your fingers you live close to a participating location — and if you do, be sure to plan your morning accordingly.
Free coffee isn't where the joy stops, though. Dunkin' Donuts is going above and beyond with kindness this holiday season and will be donating money to help children in need. In fact, Dunkin' locations participating in the Brewing Joy program will donate more than $1,000 each to a local organization aligned with the Joy In Childhood Foundation. That means DD will be donating more than $25,000 to support local organizations throughout the month of December. How's that for spreading the holiday joy?
Tony Weisman, Chief Marketing Officer of Dunkin' Donuts US commented on the generous program, and said,
We put the word 'Joy' on our holiday cups each year to represent the gratitude, giving and cheer that marks the season. In that same spirit, we are celebrating our guests by serving free coffees in select stores across the country and giving back to our local communities through our second annual 'Brewing Joy' program.
Dunkin', we appreciate you.
If you're lucky enough to grab a free cup, be sure to share it with the #DDCoffeeJoy hashtag. Spread the joy IRL and online.
However, if you aren't close to a DD participating in the program, you can still celebrate the season with their new holiday donuts. To be honest, they sounds delicious. Dunkin's Frosted Sugar Cookie Donut is topped with sugar cookie crumbles and white frosting. To make it even better, it's stuffed with cookie dough-flavored filling. It's literally the perfect alternative if you're craving a Christmas cookie.
If sugar cookies aren't your thing, you can opt for the delicious Gingerbread Cookie Donut. This Christmassy treat is topped with gingerbread cookie crumbs over sweet caramel frosting. TBH, I need it.
Can you imagine starting your morning with a free cup of Dunkin' Donuts coffee and one of these holiday treats? It'd be, like, the best morning ever.
Check out the entire Gen Why series and other videos on Facebook and the Bustle app across Apple TV, Roku, and Amazon Fire TV.