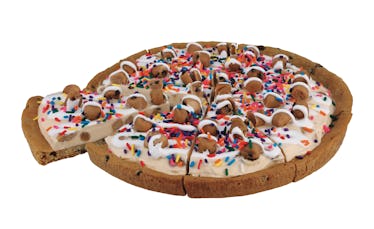 Baskin Robbins Is Giving Away Free Dessert In Honor Of National Ice Cream Month
Baskin-Robbins
July is the best month of the summer, if you ask me. The sun stays out later, vacations are in full swing, and ice cream get its time to shine. Oh, you weren't aware of that last part? Well, surprise: July is National Ice Cream Month, and it's time to partake in the festivities. Thankfully, Baskin-Robbins is celebrating with a bunch of ice cream deals that you won't want to miss. One of the offers involves free samples of the company's classic dessert pie, and it's so easy to take advantage of. If you're interested in the sweet deal, I'll show you how to get free Chocolate Chip Cookie Dough Polar Pizza at Baskin-Robbins. All you really need to do is walk into the store.
OK, it's a little more complicated than that. In order to get a free sample of the cookie dough dessert, you'll need to know when to visit. (That'd be such a bummer if you walked into Baskin-Robbins looking for a free sample on the wrong day at the wrong time.) Remembering the correct day to go will be easy, though. Just think: July is National Ice Cream Month, so what better day to give away free ice cream than July 1? By celebrating immediately, you'll start the month off on the right foot. So, mark your calendars. Head to Baskin-Robbins on July 1 between 3 p.m. and 7 p.m. local time to get your free sample of Chocolate Chip Cookie Dough Polar Pizza. The delicious deal is valid in participating restaurants nationwide.
Carol Austin, Vice President of Marketing for Baskin-Robbins, talked about the pie in a press release. She said,
It's no surprise that National Ice Cream Month is our favorite month of the year and we can't think of a better way to kick it off than with treating our guests to free slices of our popular Chocolate Chip Cookie Dough Polar Pizza. We hope our guests will enjoy this special treat on July 1 and celebrate with us all month long by taking advantage of our special deals and enjoying a sweet lineup of ice cream flavors and ice cream cakes with family and friends.
As someone who grew pouring cookie dough crumbles onto every ice cream sundae I could get my hands on, I'm thoroughly excited about this deal. In fact, you'll probably see me on line at my local Baskin-Robbins in July patiently awaiting my free sample. I mean, let's be real: The Chocolate Chip Cookie Dough Polar Pizza looks better than a cheesy dinner slice, and that's saying a lot. In case you're wondering, the Baskin-Robbins delicacy consists of Chocolate Chip Cookie Dough ice cream slathered onto a cookie dough crust. Actual chocolate chip cookie dough pieces are placed atop the sweet pie, alone with drizzles of marshmallow topping and rainbow sprinkles. I'd say it's totally worth a free sample in honor of National Ice Cream Month, wouldn't you?
Baskin-Robbins isn't stopping there when it comes to July ice cream deals, though. The company is also celebrating National Ice Cream Day, which falls on July 15, 2018 — and if you download the Baskin-Robbins Mobile App, you'll be able to partake in the fun. Those who have the app on their phones will be able to receive specials that include BOGO 99-cent ice cream sundae offers, BOGO ice cream cone offers, and $2 off a medium milkshake. Don't worry, though: You aren't limited to cookie dough when you take advantage of these deals. According to a press release, these offers can be used with any Baskin-Robbins ice cream flavor of your choice.
As if Baskin-Robbins could be an sweeter its customers, they're offering one final ice cream deal at the end of the month. On July 31, people can celebrate the company's Celebrate 31 promotion and buy a kid-size or regular scoop of ice cream for $1.50. Again, customers can choose any flavor they want to fill their cup (or cone), so make sure you choose your favorite. Have a sweet month, don't forget about your free sample on July 1.