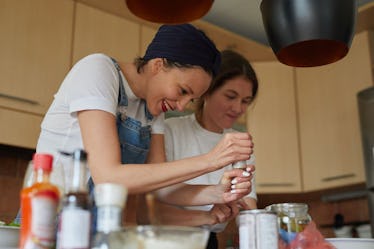 If You're Bored With Your Usual Meals, Switch Things Up With These 6 Simple Tips
Do you find yourself in the kitchen at dinnertime, about to make chicken, veggies, and rice for the millionth time? Are you basically yawning while you warm up a piece of Sunday's leftover lasagna? Or, if you're like me, you might just pile a bunch of ingredients into a skillet, and whip up some sort of mashup. Yeah, food boredom can be all too real. Listen up, though — learning how to get creative with food is a commitment, but it doesn't have to mean you need to go all-out and become a professional chef overnight.
Take it from a person who is not a natural when it comes to cooking — there a few super simple things you can do to totally shift your mealtime from lame to, you know, not so lame. Before you know it, you'll be stepping up your game. You might become one of those people who has food shows streaming in the background while meal prepping, has a shelf filled with the coolest cookbooks, and posts their creations on Instagram on the daily. But for now, try a few of these tips towards making you at least a little bit excited about what you've put on your plate.