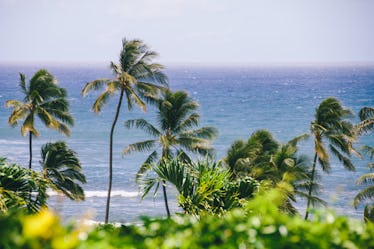 You Can Travel To Hawaii For Cheaper Than Ever, So Start Planning Your Winter Getaway
Had enough of freezing temperatures, icy roadways, and winter coats? Well, get used to it, baby, because the snowy season is just beginning... unless you're thinking about making a tropical escape. Those researching how to get cheap flights to Hawaii have been pleasantly surprised with their findings, so you might want to start doing your homework, too.
It appears round-trips to the vacation hotspot have been quite low, according to Travel & Leisure, and it's the perfect excuse to spend your winter break in another location. If the opportunity presents itself, you have to take it. Cross your "Head to Hawaii" New Year's resolution right off that checklist.
Experts spotted one-way trips from Los Angeles to Honolulu or Kahului for $280 on Virgin America, so it was definitely something worth celebrating. No sweat if you missed out on that killer deal, because plenty of more are headed your way. Nonstop roundtrip flights from Phoenix to Honolulu will be only $407 for those booking between Jan. 16 and Feb. 14, Travel & Leisure further reports. Those on opposite ends of the United States can enjoy lower prices, too, as JFK and Newark will offer round-trips for a little more than $600 from mid-January through March. But Cali is definitely the winner, folks: Beginning in May 2018, Sun County will offer seasonal service through mid-August, which features four direct flights from Los Angeles to Honolulu for a $299 one-way ticket. Aloha to that.
These aren't the only deals in the travel industry. Experts have uncovered what locations are wallet-friendly for the upcoming year, and there are plenty of warm (and not-so-warm) destinations that are worth a peek. CheapAir.com tells Elite Daily about the top 10 cheapest places to travel in 2018, so now is the time to start taking notes. Here are the site's findings:
Montenegro, Croatia
Spain
San Francisco, California
Thailand
Las Vegas, Nevada
India
Namibia, Africa
Washington, D.C.
New Zealand
Nicaragua
Jeff Klee, the CEO of CheapAir.com, reveals to Elite Daily that cheap airfare from major airports, excursion costs, budgets accommodations, and "overall destination caché" were the major factors were considered when compiling the site's top 10 list. But scoring a deal also has a lot to do with the vacationer's planning process, too. A cheap vacation doesn't just fall in our lap.
"Flying mid-week and in the off-season will offer best value for money overall," Klee tells Elite Daily. "To keep costs down, the best advice is always to avoid high season, wherever you travel. For example, shoulder season in Europe (March to April and September to October) will often give you deep discounts on flights and accommodation, and can be a better time to have a relaxing vacation. You should also keep in mind local festivals and holidays that might impact overall cost, limits on business hours, and numbers of tourists you can expect to encounter."
Now that your interest is piqued and you're searching for a new bathing suit and towel, you cannot forget about your beach entertainment. Take a look at the authors releasing new books in 2018 so you'll be able to find the perfect read while you soak up the sun. Pack some snacks, grab your new novel, and get ready for a fun time.
Not that you need any further convincing to book that tropical vacation, but Stacy Kaiser, Live Happy editor at large and licensed psychotherapist, tells Elite Daily that there are plenty of benefits of going to the beach. She says,
For most of us, life is filled with a lot of activity and chaos, but the calm of the beach, where there is a slowing of activity, can help reduce stress and open our minds to increase our ability for happiness.
It's time to check out those Hawaii tickets, friends. See you near the tiki hut.
Check out the entire Gen Why series and other videos on Facebook and the Bustle app across Apple TV, Roku, and Amazon Fire TV.