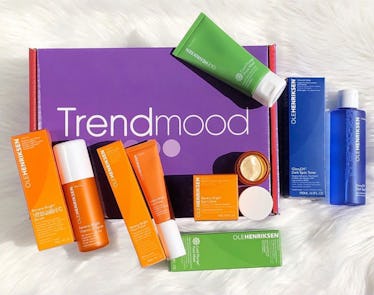 Here's How To Snag A Viral Trendmood Box, Filled With All Of Beauty's Best Products
Trendmood Box
There are beauty influencers, and then, there are beauty news influencers — OK, there's really only one big name in the latter category, and that's Sophie Shab of the @Trendmood1 beauty insider account on Instagram. If you're already following Shab's account, you're no doubt a fan of her positivity-filled posts that report on all the latest information in the beauty world, from new collections to sneak peeks and product leaks. On Wednesday, Oct. 2, 2019, Shab spilled some tea on her own special project: the Trendmood Box. If you're wondering how to get a Trendmood Box, you've come to the right place.
With more than 1.6 million Instagram followers and counting, Trendmood is hailed by many in the beauty community as the go-to source for any and all breaking beauty news. Shab herself has become something of a beauty expert in her own right, even teaming up with drugstore brand Milani for a curated collection in August 2019. When the news first broke about the Trendmood Boxes, Shab teased the collection on the @Trendmood1 Instagram veeeeeery subtly:
"Each box will be different with a mix of the HOTTEST 🔥 in makeup and beauty that can include #SneakPeeks of never released products, products from our favorite brands, special launches, accessories, and more!" Shab wrote when first announcing the box, adding that the mix of items would allow for "unlimited possibilities for a fun box."
Unlike most beauty subscription boxes, the Trendmood Box is not part of a subscription, so you don't need to register for regular shipments to snag it. Visit TrendmoodBox.com and order your box online from there. But be warned, you have to be quick about it.
The first Trendmood box dropped on Dec. 18, 2019, and included cult-favorite brand OLEHENRIKSEN's Truth Juice Cleanser and C-Rush Brightening Double Crème, Bite Beauty's Power Move Creamy Matte Lip Crayon in the shade Pavlova, a super vivid Natasha Denona Mini Tropic Palette, Elcie Cosmetics' The Velvet Sponge, and Inn Beauty Project's Glaze Lip Oil. Shab's huge following, coupled with such buzzy products in the first drop, resulted in the first box selling out almost instantly.
Since then, Shab has released a whopping 10 volumes of the Trendmood Box, each with new, exciting products — some unreleased to the public, mind you — that you're sure to be obsessed with. Trendy brands like Skinfix, Farsali, Dominique Cosmetics, Boscia, e.l.f. Cosmetics, and so many others have appeared in different volumes. Each box even contains a QR code you can scan to receive more information on how to use the products.
Although the 10th volume of the box is sold out as of April 12, 2021, Shab revealed on March 25, 2021, on the Trendmood Box Instagram that the latest iteration of the Trendmood Box — on sale right now — is a First Aid Beauty x Trendmood Box Set ($39, Trendmood Box). The box features a whopping five cult-favorite, full-size First Aid Beauty products, including the First Aid Beauty Ultra Repair Firming Collagen Cream, which is totally new.
If you want to be one of the first to know the minute the next box drops, you can enter your email on TrendmoodBox.com. As usual, there will be a super limited number of boxes available, so act fast. Until then, be sure to follow @Trendmood1, as well as the @Trendmood.box account, for more updates and details, and let Shab know what other brands or products you'd want to see in future boxes.
"I want to do so many things but this baby is on the top of my list!," said Shab when she first announced the box. "Staying true to Trendmood and listening to what our community wants is very important to me."
This article was originally published on