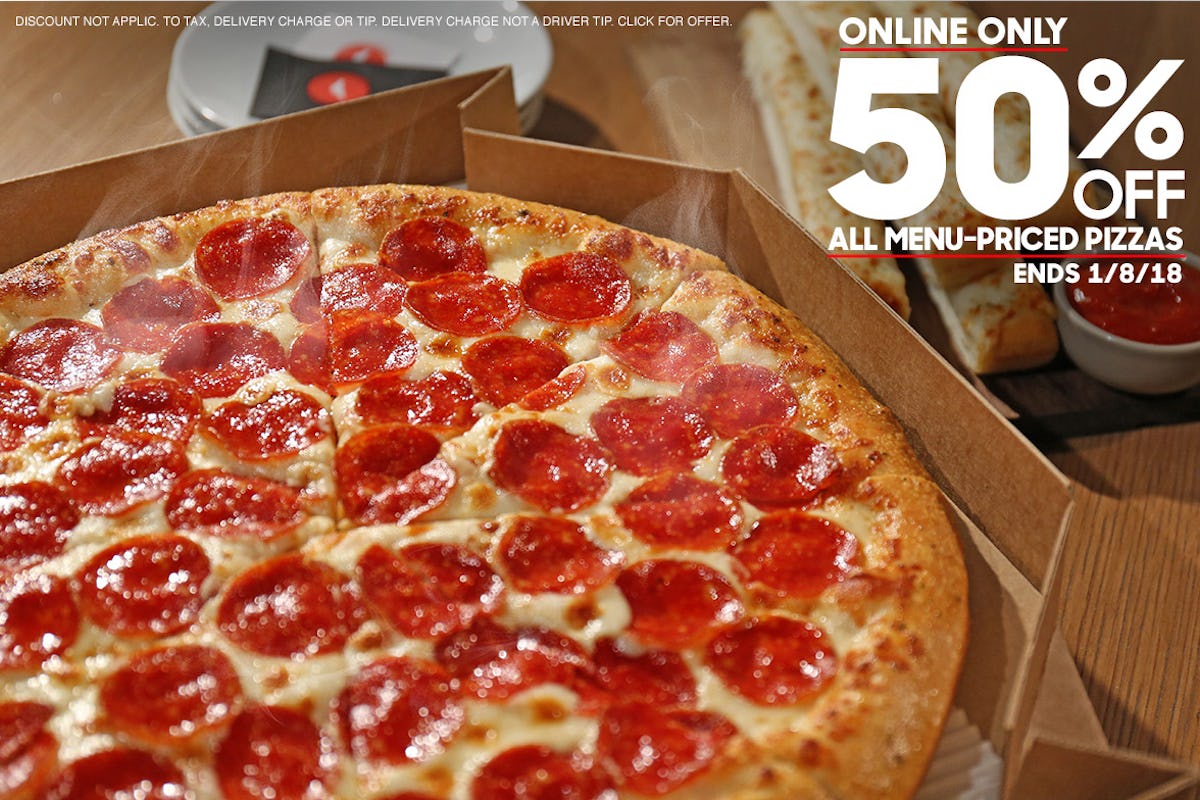 Pizza Hut Is Offering 50 Percent Off Their Pies, So Get Your Order Ready
Sometimes January can feel like a little bit of a letdown. The Christmas decorations are put back in their boxes, there are no more festive parties, and your wallet is probably a little lighter (thanks to all of your holiday shopping). The good news is that fun get-togethers don't have to come to an end (or cost a ton of money) in the new year. You can gather your crew and save a buck on dinner when you learn how to get 50 percent off Pizza Hut pies when you order online or through their app.
If you're in need of an incentive to round up your besties for a low-key hang this week (or if you don't want to cook dinner), then the 50 percent off Pizza Hut deal is perfect for you. According to a Pizza Hut press release, the restaurant is offering "50 percent off all menu-priced pizza orders placed online or through the Pizza Hut mobile app through Jan. 8." So, as long as you click and tap your way through your order online or through the app, you'll be treated to half-off of your pizza order. Keep in mind that the deal doesn't apply to any of the other menu items — it's all about the pizza.
Do you need even more reason to organize a get-together? Well, look no further than your television screen. Zipporah Allen, vice president of marketing for Pizza Hut, pointed out that a couple of pizza-worthy television events will be airing during the 50 percent-off deal. Allen pointed out that you can enjoy the Pizza Hut 50 percent-off pizza deal as you begin "celebrating the start of Hollywood's award season." Believe it or not, the 2018 Golden Globes are already upon us, and you can tune in on Sunday, Jan. 7 to see if your favorite actresses and actors get the hardware you think they deserve.
If you're more into a pigskin pizza party, you can pair your 50 percent-off pizza deal with a viewing of the 2018 College Football Playoff National Championship on Monday, Jan. 8. Seeing as Pizza Hut is the official pizza of the NCAA, according to Allen, it's probably not a huge coincidence that the last day of the deal also happens to be the same day as the college football championship. Coincidence or not, the deal is still great for all of your football pizza party needs.
No matter which of these exciting television events brings your squad together, you're probably going to want to document this killer pizza deal with some pictures. Seeing as it'll be almost a week into the new year, you can start making good on your resolution to up your Instagram game in 2018. You know that awesome filters are only half of the equation when it comes to inducing FOMO in all of your followers. To really perfect your post, you can choose from any of these Instagram captions for pictures of pizza and enjoy the likes come rolling in.
Sometimes the beginning of a new year can be stressful — especially if you've set some difficult New Year's resolutions for yourself.
Thankfully, places like Pizza Hut are here to lend a helping hand. You can take advantage of the Pizza Hut 50 percent-off pizza deal and have one less thing to stress about off of your plate. And hey, if you need more help knocking meals off of your to-do list, you can check out Applebee's all-you-can-eat riblets deal this January.
Honestly, not having to worry about what you're going to make for dinner is a welcome way to start out the new year. Plus, you're getting a killer (and tasty) deal, so it's really a win-win.
Check out the entire Gen Why series and other videos on Facebook and the Bustle app across Apple TV, Roku, and Amazon Fire TV.