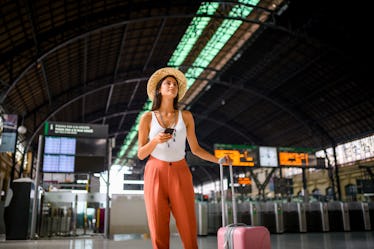 18 Millennial Travelers Dish Their Tips On Fitting Everything Into A Carry-On
MStudioImages/E+/Getty Images
If you've ever sat on top of your suitcase in order to zip it up, or packed for a trip and thought, "I need a bigger bag," you're not alone. There are plenty of other travelers in your shoes who have admittedly squeezed their belongings into a gigantic suitcase, lugged it through the airport, and then wondered how to fit everything into a carry-on.
Because, clearly, it's possible. Thanks to the well-traveled people zipping around the gates and security lines, you know this fact for sure and have big dreams of one day packing your own carry-on bag. You dream about what it's going to be like to skip the area where you usually check your bags, and not have an attendant say, "Would you like to pay for your overweight luggage?" You imagine what it's going to be like to see all the signs for baggage claim after a hefty flight across the globe, as well, and know you don't have to make a pit-stop.
What you might not realize is that "one day" can be sooner rather than later. Like those travelers you see casually grabbing sandwiches before their flights with zero worries in the world, you can be hanging in the airport with your belongings in hand and life at ease. These 18 millennial travelers shared their best tips so you can get started. Here's how to fit everything you need for a trip into a carry-on.