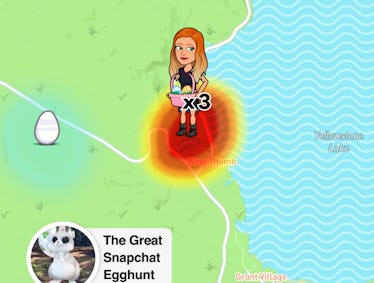 Here's How To Find Easter Eggs On Snap Map During The "Great Snapchat Egg Hunt"
Snapchat
Hey, so I can't wait for this weekend's egg hunt. No, I'm not coming to your grandma's annual egg hunt... I'm referring to the one through Snapchat's Snap Map. Maybe you haven't heard, but you've actually already been recruited to compete against pretty much everyone in your neighborhood in an extremely extensive egg hunt... and trust me, it's going to be totally wild. But if you're not entirely sure how to find Easter eggs on Snap Map, let me show you the way. It's super easy, and TBH, I'm already getting into competitive mode as we speak.
If you remember Pokemon Go!, this'll most likely remind you of those good old days. You'll be competing against your friends — as well as everyone in your neighborhood — to find as many cyber eggs on the Snap Map as possible. The eggs don't disappear when other people find them, so it's not a race in any way at all, but your goal is to get the highest score possible. Each egg is valued at one point, with the exception of the super rare golden egg, which amounts to five points. Guys, I'm counting on you to excel in this hunt — but if you're not sure how to play, I've listed the steps below.