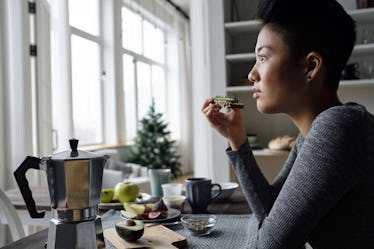 Experts Reveal The One Thing You Should Do Each Morning To Feel Less Stressed
Morning people sometimes seem like a whole different breed of humans, don't they? For many of us, the hour (or two, TBH) after waking up feels like a real doozy. The simple acts of getting dressed, feeding yourself, and getting out the door on time can easily start your day off on the wrong, anxiety-inducing foot. However, according to experts, the secret for how to feel less stressed in the morning is pretty simple: Give yourself more time.
I know, it's easier said than done, perhaps, but waking up even just a half-hour earlier, for example, might give you all the time and space you need to incorporate tactics for stress release and happiness into your morning routine. And even if you already make lots of time to do your perfect cat-eye or make a killer salad for lunch, giving yourself time to actually get centered is what you really want to make some extra time for each morning before heading out into the wild, wild world.
"Craft your own unique routine, and leave yourself enough time to not feel rushed," Ashleigh Edelstein, LMFTA, a Texas-based therapist who works with teens, couples, and young adults, tells Elite Daily. If you're someone who feels negative and super slow in the morning, for instance, you might need a slightly different routine than someone who feels scattered and nervous as soon as they wake up.
Overall, what you do with that extra time in the a.m. is totally up to you. It's all about finding those little things that'll leave you genuinely smiling as you go about your daily commute. But if you're not quite sure how to craft the perfect morning routine, here are some suggestions from experts who know a thing or two about relieving stress and staying positive.