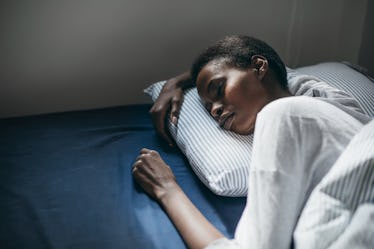 8 Hacks For Falling Asleep Faster & Actually Snoozing Through The Entire Night
I have been plagued with insomnia and trouble sleeping for most of my adult life, partially because I find it very difficult to shut down the rattling cage that is my brain. So I've definitely spent a fair share of my time researching and experimenting with hacks on how to fall asleep faster, and how to stay asleep once I've finally done so. Trust me, short of hypnotherapy, I've tried just about everything.
Sleep is a problem for many people, as you may well know. Americans get an average of about six hours of sleep a night, when it's recommended that we get closer to eight or nine. What that leaves us with is a whole country filled with tired people, and honestly, I'm yawning just thinking about that.
The effects of sleep deprivation are definitely no joke, given that it affects everything from your emotional stability to your cognitive functioning, not to mention the fact that it makes simple, daily activities all the more challenging. So even if your knee-jerk reaction is to scoff at the mere idea of "sleep hygiene," maintaining a healthy snooze routine is actually really important, and can even be pretty life-altering if it's something you struggle with on a regular basis.
Sometimes, learning how to fall asleep more quickly and more efficiently is as basic as giving yourself a little more time to unwind before you hit the hay. Here are a few suggestions for ways to help you fall asleep faster and stay in Snoozeville all night long.