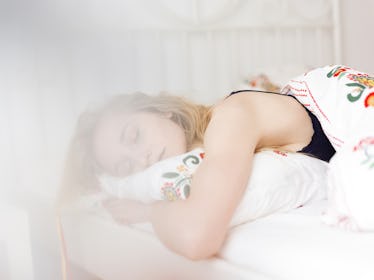 6 Struggles You'll Inevitably Face Tomorrow If You Don't Get Enough Sleep Tonight
It's no secret that being sleep-deprived can throw you off in more ways than one, but what happens when you don't get enough sleep is probably way more complicated than you even realize. I know for me, when I don't get the proper amount of rest — which happens more than I'd care to admit — no matter how many espressos or superfood smoothies I throw back, by about 4 p.m., all I want to do is army-crawl back to bed, pop on a sleep mask, and call it a week. I'm also usually pretty freakin' grumpy, and a whole lot likelier to respond to normal life things — like a late Seamless delivery or a crowded train — with the patience of a poorly behaved toddler.
Of course, I know I'm not alone in this whole not-getting-enough-sleep thing. While the National Sleep Foundation recommends that adults between the ages of 18 and 64 get between seven and nine hours of sleep, Americans actually average less than seven hours a night, which means sleep deprivation is not only common, but habitual for most people.
So if you're one to really burn the midnight oil, consider some of the everyday impacts that your lack of Zs might be having on basically everything you do. It might be enough to convince you (and me, too!) to turn out the light a few hours earlier than usual.