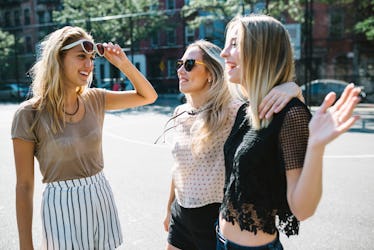 7 Ways To Deal With The Braggy Friend, Because Life Shouldn't Be A Competition
Accomplishments are worth talking about, especially among your group of friends. But there's a fine line between patting yourself on the back and metaphorically shining your gold trophies at any given moment. There's always that one friend who kind of makes life seem like a competition and feels like they need to list their doing good inventory all of the time. It's not always easy learning how to deal with the friend who brags, but you do it for your own peace of mind and friendship.
You still want to be friends with this person, which is why you try to understand how to overlook and combat their need to brag. Sometimes, people don't even recall that they're bragging because they're so used to talking about themselves. It's also likely that they haven't been called out on it quite yet.
Whatever the reason may be, you need to come up with a game plan and keep your friendship in tact as well. In my opinion, someone's merciless bragging shouldn't be the reason you drop a friendship high and dry. So, if you have a friend who is always keeping a tally of all of the amazing things happening for them, it's time to learn how to deal with your bragger.