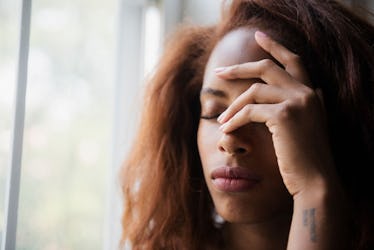 Experts Reveal The 5 Best Ways To Cope When You Wake Up With A Migraine
It's 6:30 a.m., and the soothing alarm you've set to ease you out of sleep is chiming. Your eyes blink open, but it takes a little longer than usual to focus. When they finally do, you spot the golden sunbeams coming through the blinds. Normally you'd smile at this, maybe even bask in their warmth, but this morning is different: The rays are blinding, so you force your eyelids closed. The intensity of the sunshine is practically debilitating, and that's because you've woken up to a head-splitting migraine. Figuring out how to deal with morning migraines is no small feat in and of itself because the damage has, essentially, been done. You've already been experiencing the throbbing aches since before you woke up, so environmental stressors are just an added strain. But how can you nurse a nasty migraine if you can't even make it out of bed?
According to the Migraine Research Foundation, a migraine is categorized as a neurological disease, and is the third most prevalent in the world, as a whopping one billion people worldwide, including children, experience migraines. And even though people who have chronic migraines can typically tell when a migraine is about to strike, it's not unheard of to wake up with a migraine already in motion, just waiting to make the day more difficult.
The good news, however, is that there are lots of preventative measures you can take to prevent morning migraines to the best of your ability. And, if worst comes to worst, there are both medicinal and holistic remedies to fall back on if you wake up already in pain. To put an end to your early-morning migraines, here are a few expert-approved tips to take note of.