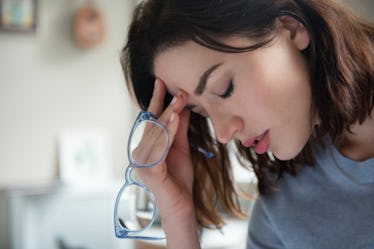 6 Headache Red Flags That Are Easy To Miss, But Can't Be Ignored
So you have a killer headache, but you don't know what to do about it. It can be tricky to know when to push through the pain, and when to actually worry about it, since headaches can be common, and often don't mean anything at all. But there are certain headache red flags that do tend to mean something, and are worth paying attention to.
When you think about it, headaches are pretty strange. The pain seems to come from everywhere and nowhere at the same time, and it can often seem to affect your whole body. Specifically, a headache is defined as pain in the head and neck area. That seems sort of obvious, but here's something that is a little more bizarre: A headache is never actually caused by your brain, because your brain isn't pain-sensitive. Rather, a headache comes from the sensitivity of blood vessels or muscles in your head and neck. So when your head starts to kill, it's often due to poor blood circulation or muscle spasms, or even a lack of water arriving to that area of the body — hello, dehydration.
With that in mind, here are the headache red flags that might be easily missed, but could mean you have bigger problems that won't easily be solved by a tall glass of water and some ibuprofen.