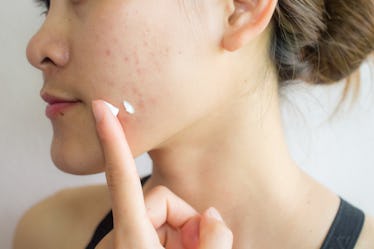 Vanessa Hudgens' Makeup Artist Reveals What *Not* To Do When Covering Up A Breakout — EXCLUSIVE
Boyloso/Shutterstock
Picture this: You suddenly wake up as a celebrity, treated to a life of luxury. You experience all the glitz and the glam, and you absolutely relish it all. That is, until you have to be on a red carpet in, like, two hours and you notice a breakout the size of Montana on your face. Luckily, most celebs are privileged to work with professional makeup artists who know how to handle these situations. Still, that doesn't mean we laypeople can't learn how to cover a breakout the right way from the pros and do it ourselves. We can't all be celebs, after all.
I was lucky enough to get straight to the source and snag some tips for covering a blemish from Differin celebrity makeup artist Allan Avendaño, who masters the beat of many a star, including Vanessa Hudgens, Camila Cabello, Sarah Hyland, Joey King, and Ashley Graham, to name, well, several. Given the fact that red carpet flashes and camera lights are often pretty harsh, Avendaño pretty much knows it all when it comes to concealing any zits or pimples, including the best products to use, the right steps to take, and the wrong steps to take. (Because, yes, covering a blemish can actually go very, very wrong.)
So let's start with what not to do to your breakout. As much as you might want to dive right in and start slathering on as much product as possible, you should pause first and look at your tools. Avendaño says one of the biggest no-nos of covering a blemish is using "dirty brushes or sponges." That obviously means "you have to make sure that everything is clean" so you don't go spreading more germs all over your face.
"A lot of people tend to not wash their personal brushes and beauty blenders and it collects so much bacteria," Avendaño tells via email. "It probably is making your acne worse!"
Next, if you're used to just packing layers of powder over a pimple in between God knows how many layers of concealer (guilty as charged), Avendaño reveals this might actually be counterproductive: "I try not to over-powder a breakout. The powder matches in to texture and tends to make it more visible." WHO FREAKING KNEW?
Speaking of concealer, did you know that you probably shouldn't be using your normal concealer — you know, the one that's a little lighter than your real skin tone — to cover a breakout? Again, Avendaño says any concealer or foundation that doesn't match your skin exactly may end up "[making] it stick out." Do you know how many times I just popped my regular old concealer over a mountain zit and hoped for the best, only to leave a big ol' white spot on my face? Too many times.
Finally, both Avendaño and Dr. Melissa Kanchanapoomi Levin, dermatologist and founder of Entière Dermatology, say one final no-no is packing products with comedogenic ingredients onto the breakout. "I counsel my patients to look for skincare products labeled as 'non-comedogenic,' which means they do not clog pores," says Dr. Levin. While this may be a lengthy list to look for, Avendaño says "it's important to prevent breakouts from getting worse."
OK, OK, I know what you're thinking. All of this information about what not to do when covering a breakout is great... so what should we actually be doing? According to both Avendaño and Dr. Levin, it all starts with a healthy, smooth, protected base. "Prior to applying makeup, using a gentle cleanser, non-comedogenic moisturizer, sunscreen every morning, and acne medications is imperative," says Dr. Levin.
After cleansing with something gentle, like Differin's Gentle Cleanser ($6, Amazon), Avendaño recommends reaching for Differin's Oil Control Moisturizer ($10, Amazon). "It's noncomedogenic, contains SPF 30, absorbs surface oil and gives you a matte finish that lasts throughout the day," he says. "It acts as a primer, giving you a perfect canvas to start applying makeup. This makes breakouts easier to cover and camouflage because it gives the skin a smoother texture to work with."
Once you've prepped your base, Dr. Levin says she recommends "using long-wear, highly-pigmented concealers only as spot coverage, and then using light coverage elsewhere." Too much heavy coverage, she says, and you might actually be worsening the issue.
"There is a myth that all makeup clogs pores and worsens acne. The problem is that when someone is suffering from outbreaks, heavy-duty long lasting makeup is typically used to cover not only the acne but also the discoloration that results from repeated breakouts," she tells me. "At the end of the day, scrubs or more aggressive makeup removers are used to remove the heavy makeup, which can cause irritation and skin barrier disruption. This cycle further worsens acne causing occlusion acne and irritant contact dermatitis."
This is why Avendaño actually keeps the layering on top of a blemish to a minimum. Using BECCA Cosmetics' Ultimate Coverage Concealer ($29, BECCA Cosmetics) — one of his favorites at the mo' because "it gives a great deal of coverage without getting dry or cakey" — he layers a coat atop the breakout, blends, and continues on with the rest of the makeup application. "At the end of the application, I will go back again to add extra coverage," he adds. "Usually, that's all I have to do to cover the blemishes and it ends up lasting all day!"
If anything else, Avendaño lightly dusts the blemish with a tiny bit of translucent setting powder, and boom. That's it. No 15 layers. No cakey formulas. No harsh substances. Just an expertly covered breakout that'll stay that way all day.
At the end of the day, surprise breakouts are supremely annoying no matter which way you slice it. But if you want to cover it like the pros do, resist your habitual urge to cover it with every complexion product you own. Your skin, overall, will absolutely thank you.