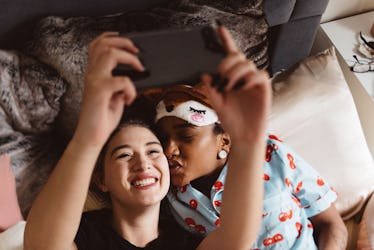 If A New Relationship Changes Your Sleep Habits, Here Are 3 Ways To Cope
The art of getting enough sleep is one mastered by few. In world where scoring high-quality shut-eye is already challenging enough, I'm here to tell you that a new relationship also changes your sleep habits. If general body chemistry isn't the culprit — making us turn to aids like Nyquil or Dirty Lemon Sleep Water or yoga to help us sleep — then it's social media keeping us awake. And it's also the new partner sharing the sheets with you.
Which sucks, because sleep is a rare and vital resource. A 2003 study in Sleep journal proved that consistently getting just six hours of sleep is as bad as staying up for two days straight. So, no, you probably shouldn't operate heavy machinery or send work emails after staying up all night while trying to watch every ending to Black Mirror: Bandersnatch.
The FDA recommends adults between at least seven or eight hours of beauty sleep each night. It's crucial that you give your body enough time to go through every sleep cycle to wake up feeling as refreshed as possible.
Still, the prospect of restless nights in bed— and not the sexy kind — shouldn't make you lose sleep. I talked to Alanna McGinn, founder of sleep consulting company Good Night Sleep Site and host of This Girl Loves Sleep podcast, about some dreamy solutions to the problems sleeping with someone new presents.