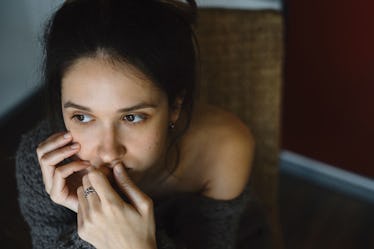 Here's How To Bounce Back After A Really Awful Day At Work, According To Experts
There's nothing quite like a soul-sucking day at work, amirite? Jokes aside, it truly is one of the worst feelings to come home after a rough day or a long shift and just feel completely burnt out or riled up because of something that happened during work hours. And not all of us know how to bounce back from a bad day at work by simply putting our feet up, you know? Sometimes it takes a real self-care plan and some mental or emotional tools to really lift us out of that bad-work-day fog.
As marriage and family therapist Christie Tcharkhoutian tells Elite Daily over email, after a bad day of work, it's always important to let yourself unplug, de-stress, and unwind. She suggests making sure your environment at home is one that will help you find peace, whether that means having all the items at hand for a nice bath, or making a rule to turn off your phone when you come home from work.
But aside from having a soothing, safe space to come back to, there are other things you can do, and shifts you can make in your way of thinking, that will help those inevitable bummer days seem a little less dark and difficult to get through. Trust me, you don't have to let a bad day wipe out your spirit. Take a few cues from pros on how to restart and rebound when you're off the clock.