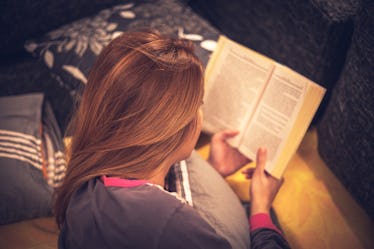 6 Ways To Go To Bed Feeling Happy Instead Of Stressing About The Day Ahead
Waking up on the right side of the bed is challenging when responsibilities of the day ahead are clouding your thoughts, but some might argue that going to sleep feeling 100 percent satisfied is also a struggle. So, if you're stuck contemplating how to be happy before bed, you have some options. However, if by nightfall you're still holding a grudge about your co-worker's slip-up or a classmate's reluctance to finish her portion of a group assignment, it's going to take a little work to quiet all that internal chatter.
Granted, no one really wants to put in the work when they're winding down before bed. Resting easy should be a natural occurrence, not a formulaic equation, especially since this is the time you can revel in the fact that what might have been a terrible day is over and done with.
Maybe you have trouble accepting that what's done is done, and your brain likes to take advantage of the time before you snooze to review a million different scenarios that could have altered the day's events had you approached a situation differently. If you're a workaholic, chances are you're burying yourself in assignments that weigh you down, or maybe your class schedule just sucks and you harp on the fact that you just cannot deal with this professor or that term paper tomorrow. I'm just going to quote my girl Elsa here and suggest you do your best to let it go, let it go.
Say what you will, but I fully believe in the domino effect, and that what you put out into the universe, you'll receive right back. Having said that, it's really important that you figure out ways you can be happy before bed so you can enjoy a good night's sleep, and wake up feeling ready to take on whatever lies ahead. Here are a few ways to make it a reality.