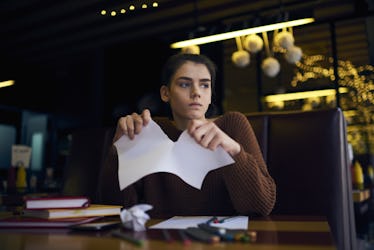 6 Ways To Feel Happy After A Breakup, Even If Things Ended Before You Wanted Them To
I'd like to think that no one jumps into a committed relationship with the intention of breaking up, but unless both parties have come to the conclusion that each is the other's definitive "person," relationships end, and it's never easy. Especially under the circumstances of the dumpee versus the dumper, an unexpected breakup can honestly feel like the end of the world, because it is, in many ways, the end of the world as you know it. Off the bat, this can seem scary AF, but it's also really exciting, too. Initially post-split, you're going to feel sad, maybe even angry, and you're definitely going to wallow in your own way. You're going to wonder how to be happy after a breakup, and if it's even possible, but I'm here to tell you that it absolutely is, and you'll get there in time.
I was dumped by my first serious boyfriend during my junior year of college. We'd been dating for three years, and I was absolutely devastated, even though I knew one of us was going to pull the plug on us eventually; it was really just a matter of when. I remember the night it happened: Lying awake in bed, I wondered if I would ever feel happy again, if I'd ever feel like myself again — whoever that was.
Being the book nerd that I am, though, I took to browsing through a ton of quotes floating around the internet to get me in the right mindset. It was then that I came across a meme that gave me an all too necessary wake-up call. It said, "Hey, remember that person you thought you couldn't live without? Well, look at you now, living."
It might hurt to hear this now, but life does go on after a breakup, and eventually, you'll realize it was probably for the best. Even though it may seem impossible at first, you can be happy after a breakup. Here are a few baby steps you can take to get there.