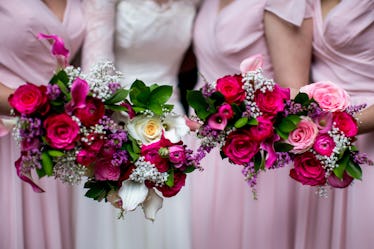 How To Ask Your Girls To Be Part Of Your Bride Tribe, Based On Your Zodiac Sign
A bride tribe is made up of ladies who you seriously couldn't picture your special day without. They'll be engraved in that memory of your marriage forever, so no pressure in picking your bridal party. Once you've figured out who you want, though, you might be stumped on how you can ask one of your favorite ladies to join in for the ride of your life. Deciding how to ask your friends to be bridesmaids can be depicted by what your zodiac sign is.
It might seem strange, but those qualities attributed to the time you were born, can definitely give you guidance in a way that speaks most to your personality. I mean, you don't want to act all brand new with your friends or anything, so sticking with a route that says what you're all about will be so much more sincere. Besides, they'll catch on if you're not being yourself.
Don't for one second think that your girls are expecting a hot air balloon with their name on it or anything. They are going to be super grateful and ecstatic no matter what way you decide to ask them. But if you're still confused on how to play the messenger for such a sweet request, look for a little guidance from your zodiac sign.