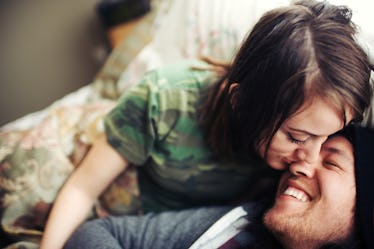 This Is The Easiest Way To Ask Someone If They've Been Tested For STDs Recently
Years of watching rom-coms have exposed me to numerous versions of the three-date rule. It's the idea that a woman (it's usually the woman but it really can be anyone) tells the man she's just started dating that she won't sleep with him before the third date (or fifth date, or 10th date, or whatever). It's a fine idea, if that's what you're into, but an even better one would be to hold out until you know that your partner has been tested. Just because knowing how to ask someone if they've been tested wasn't a major plot device in the last Katherine Heigl movie you saw doesn't mean it shouldn't play a major role in your love life.
STI testing isn't exactly my idea of romantic dinner conversation, either. In fact, it's downright awkward. But your sexual health is your responsibility and there's nothing awkward about that.
You know what is awkward? Finding out a few weeks later that your new boyfriend or girlfriend gave you more than just butterflies. No thanks.
Ideally, you should ask all new partners about getting tested and you should get tested regularly, as well. According to the CDC, all sexually-active women under the age of 25 should get tested annually for Chlamydia and Gonorrhea and at least once for HIV. Although these guidelines are helpful, remember that your risk of infection is higher if you have multiple partners or engage in unprotected sex.
To help you start a conversation about STI testing with your partner, I asked Lola Jean, sex educator, and Bryan Stacy, co-founder of Biem, a virtual sexual health app, for advice. Here's how you should handle this situation.