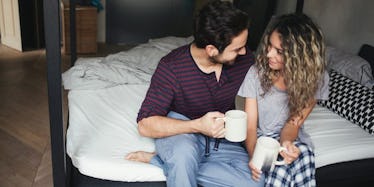 Guys Share What They're Actually Thinking When You Ask Them To Get An STD Test
I'm not big on telling people what to do.
That being said, there is one thing that I am STAUNCHLY adamant about telling people to do: GET TESTED FOR STDs.
It is for your own health. It is for the health of your partner. It is for the health of the entire global community (aka everyone your partner sleeps with in the future, everyone those people sleep with, and so on).
There is truly no excuse (not a single one!) for not doing it.
You really should be doing it on your own, but you should especially be getting tested if your partner asks to you.
Speaking of the "when your partner asks you to" topic, you should also be asking all of your new partners to get tested before you guys go condomless.
THIS ISN'T SOMETHING TO TAKE LIGHTLY. THIS IS YOUR HEALTH. CAPS ARE TOTALLY ACCEPTABLE HERE BECAUSE THIS MATTERS.
Now, I know this conversation can be a little intimidating, and frankly, it might seem painful to bring it up to a new guy you've been seeing. But take it from these male Reddit users, your new dude will know that your request was nothing out of the ordinary.
Everyone should just do it no matter what.
You should be getting tested with every new partner on your own anyway.
This guy's been married for seven years and is still down to get tested.
These guys think asking a new partner to get tested is totally reasonable.
Your health is a BFD.
This guy knows certain diseases will be way worse for you than they are for him.
He'd rather take the test than get itchy down there.
This guy thinks NOT getting a test shows bad judgment.
Overall, there's really no downside to doing it.
All right, now quit reading this article and go get tested.