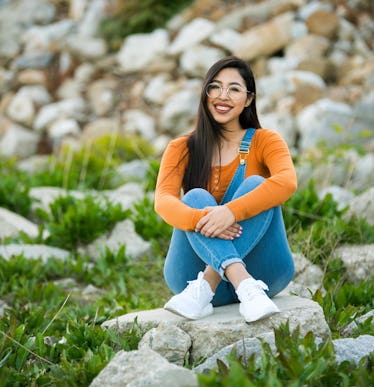 How This Young Activist Is Leading One Of The Nation's Biggest Marches On Gun Control
Courtesy of Rachel Iribe
On March 24, the March For Our Lives protests will take over cities all across America to call for gun control legislation and to end gun violence in schools. And while the Parkland students may have spearheaded this movement, in recent weeks it's taken on a life of its own. The movement has drawn in students around the country — students like South Gate High School senior Rachel Iribe, who's helping organize the March For Our Lives LA. In an interview with Elite Daily, she told me about taking her passion for student leadership to the real world with the March For Our Lives and her advice for aspiring student activists.
The 18-year old South Gate, California student is an active member of her high school's leadership organization, but didn't realize her potential to be a political organizer until the tragic Feb. 14 school shooting at Marjory Stoneman Douglas High School in Parkland, Florida, which killed 17 people.
"I remember every small detail from that day," Iribe says. Because she was in school, she didn't hear about it until after it happened. "We turned on the news and I saw the people's faces and everyone crying and I heard them talking about their experiences," she says, "and it all just dawned on me. I started crying."
It wasn't just the tragedy that awoke Iribe's passion to stand up, but the desensitized reaction from the general public. Iribe says she wasn't satisfied with Parkland, Florida being labeled "another school shooting," and organized an event at her school to honor the 17 lives that were lost. Seeing her passion, one of her teachers connected her with the team behind Women's March Los Angeles, and with their support she took on the role of a student organizer for the March For Our Lives LA.
According to Iribe, most of her time is spent reaching out to neighboring high schools and getting the word out about the March For Our Lives LA on social media. However, all protests come with their challenges, and Iribe claims her biggest obstacle has been getting the public to believe the March For Our Lives will make a difference.
"A lot of people believe the march isn't going to do anything, but I completely think otherwise," Iribe says. "This is just the first step. This is where we go and show how serious we are and get the politicians to see we're not going to [stop] fighting until we see the change we want."
Iribe is hardly the only teen taking action on gun control.
The March For Our Lives to demand gun control, which was announced on Feb. 18, is a protest started by the Parkland student survivors themselves, has since inspired other high school students across the country to take action and demand gun control reform. As of March 23, there are currently 836 sister events planned worldwide. With thousands of marchers — the Los Angeles march alone has more than 15,000 people planning to attend, according to a Facebook event page — the movement is a bona fide phenomenon.
And it's a genuine youth movement. According to a press release, all 17 of the speakers at the flagship march in D.C. will be teens who have been affected by gun violence, and as Sen. Brian Schatz of Hawaii pointed out in a tweet, no politicians or people over 21 are invited to speak. (The march will feature over-21 musical guests and performers.) Political figures and celebrities have expressed their support for these young activists, and many have even declared their support by promising to attend marches in certain cities.
The student activists have an impressive list of demands, including closing the loopholes in gun sales laws which allow people to purchase guns without a background check; banning the sale of assault rifles; and banning the sale of high-capacity magazines that allow a shooter to fire bullets at high rates. The nationwide marches will take place on March 24, when students, teachers, and gun control advocates will call on Congress to make changes to gun control legislation.
Iribe herself hopes that by organizing March For Our Lives LA, her contributions will help propel the movement's mission forward. She says she won't stop until she sees everyone fighting for the same cause. She hopes "for politicians to pass a bill to stop these guns getting out so easily, and stop these tragedies."
While the advice from organizers of the Women's March LA was essential, it's the student body that's really Iribe's main focus. She's been actively working with the students of South Gate High School in order to get them more involved. On March 21, Iribe hosted a public sign making party in anticipation of the event on Saturday.
"I've been working really closely with the people at the school," Iribe says. "I really wanted to get everyone involved and get as many people as I could to the march since it is a movement for students. They're the ones being affected."
According to Iribe, organizing this march has opened her eyes to all the change that can come from just one person.
"Start at school, but don't be afraid to reach out to a larger organization," Iribe advises. "I was scared at first because I'd never organized something this big before, but they're there for you. You'll catch on quick, so don't be scared to speak up."
Easily one of the most anticipated events of 2018, March For Our Lives is going to make history. So, what does this student organizer hope to see from all her hard work? Her answer is pretty straightforward.
"I hope people feel inspired with all of this," Iribe says. "Don't let anything stop you."