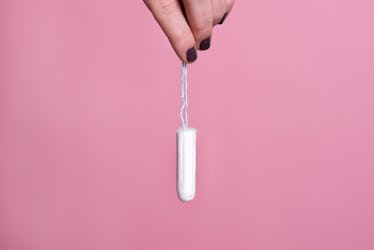 5 Things To Know About How Reusable Tampons Work & If They're Actually Worth It
You probably never thought that whole "reduce, reuse, recycle" slogan that parents and teachers relentlessly drilled into your prepubescent brain could one day be applied to your feminine products, but hey, here we are. If you're unsure about how reusable tampons work, or what they even are to begin with, you're not alone. There's not a lot of information readily available on the subject, but with menstrual cups progressively becoming more mainstream, reusable feminine products in general have captured women's attention, as evidence shows they're better for our bodies, and they're pretty great for the environment, too. With such powerful, positive claims to back up these products, why wouldn't you give them a try?
Look, these days, I'm all about my period. I want to know why my female parts do what they do, and how to make bleeding feel like less of a burden because, honestly, our menstrual cycles are interesting AF, and the more strategies available to help us deal during this time, the better. That is, of course, if these products are actually safe to use and not just another social media gimmick someone thought up to accrue 15 minutes of Insta-fame. That being said, let's begin with the basics, like what a reusable tampon even is.
Instead of buying a pack of disposable tampons, reusable tampons are, like the menstrual cup, a one-time purchase. According to Natural Parents Network, these products are a "sort of hybrid between a tampon and pad." Though they can be difficult to find pre-made on the market (you can purchase them on Etsy, via UK brand Honor Your Flow, and Thinx sells a reusable tampon applicator), you can also DIY a few for yourself to cut costs and the headache of tracking down a brand that actually makes them.
Granted, it's not a lot to go by, but the fact that the product is environmentally friendly, saves you an extra few bucks every month, and it's potentially an overall healthier option to aid your flow, could all be reason enough to give these feminine products a try. Before you commit to forgoing throwaway options entirely, though, you may want to consider the following facts.