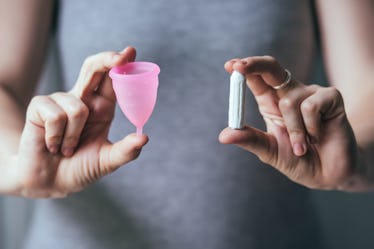 7 Things To Know About Period Cups If You Literally Have No Idea How They Work
Shutterstock
So you're sick of tampons, but you feel like there's no other option. Pads feel a little bit middle school, and, uh, those are the only two menstrual hygiene options, right? Wrong. Once you know how period cups work, you might just reconsider the notion of ever using a box of tampons again.
Menstrual or period cups (which are often referred to as "diva cups," because one of the most popular brands is the DivaCup) are flexible cups that you insert far inside your vagina to hold any blood from your menstruation. It's pretty apparent why they tend to get a bad rap: Having to pour out a cup of your own blood is definitely, to say the least, an acquired skill.
The menstrual cup movement has been gaining steam largely due to its feminist and environmental implications: A menstrual cup, in essence, tends to demand the destigmatization of periods, and it's also a far more environmentally friendly option than a tampon or pad, which are both, of course, thrown away after you're done with them.
The more you know about menstrual cups, the more you'll start to understand why they're such a great option. Here are seven common questions about menstrual cups, and all the answers you'll need.