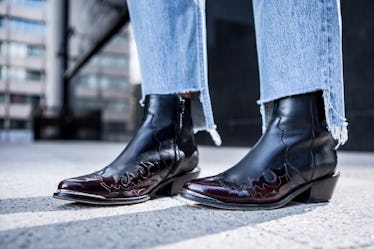 Twitter Is Debating How Often You Should Wash Your Jeans, So Prepare To Be Disgusted
Pablo Cuadra/Getty Images Entertainment/Getty Images
The Twitter "Moments" section can range from the hilarious to the important to the downright strange. Yesterday, one Moment was all of those things. The question "How often do you wash your jeans?" sparked a debate amongst Twitter users that elicited some pretty interesting (read: gross) answers. But honestly, how often is normal? Or good for your jeans? Or sanitary?
When you take into consideration how Moments form, it's clear that this question is one that's left many a denim owner scratching their heads in consideration. According to Twitter's website, "Moments are curated stories showcasing the very best of what's happening on Twitter. Our Moments guide is customized to show you current topics that are popular or relevant, so you can discover what is unfolding on Twitter in an instant." In other words, Moments form when enough people are talking about one topic. And this one really has people airing out their dirty laundry. (Had to.)
To be honest, I myself wait about a month or so between washes and typically wear my jeans at least a few times a week. While yes, they can get a little stale after a few weeks of repeated wear, I've found that if I just let them air out and have five or so days off of my body, a lot of the musk dissipates. What can I say? I hate doing laundry and also dislike having to re-stretch the waistbands of my jeans out after the dryer has shrunk them tighter. Also, nobody has ever told me I smell, so all good, right? Right? Of course, if I spill something noticeable on them that's a different story.
If you're turning up your nose at my jean hygiene (hy-jean?), just wait until you see some of the responses to the debate on Twitter. While some users say they wash their denim twice a week, others say that, according a Levi's executive, you should only wash them a few times a year. Even I say that no amount of perfume or airing out could make 6-month jeans smell okay!
Crazy enough, the jury seems to be split on this one. Check out the debate below.
Maybe we all smell like Starbucks?
This user considers a pile of dirty laundry to be a washing machine of its own.
The Bachelor alum Kaitlyn Bristowe had much to say on the matter.
This person doesn't even wear jeans, so she needs to go home.
Another woman doesn't know if she's in love until jean washing has been established.
All sorts of theories came out of the woodwork:
To clear up this great debate once and for all, I did a little digging to see what the pros say. Speaking in a video to Fortune, Levi's CEO and President Chip Bergh says, "A good pair of denim doesn't really need to be washed in the washing machine except for very infrequently or rarely." He explains that washing a pair of Levi's often could actually cause damage to the denim, and would prevent it from acquiring the faded creases we all love so much. If there's an expert on the topic of denim, it's definitely Levi's.
So, how should you care for your jeans? Jonathan Cheung, Head of Design at Levi's, has some good advice for denim care. While he agrees that they should be washed infrequently (and also points out that washing clothes often wastes water and energy), he gave Marie Claire a few tips for when a wash is necessary. "I would recommend turning the jeans inside out and throw[ing] them in with your other dark clothing on a cool wash. Use a mild detergent, no bleach," he advises.
Between washes, Cheung recommends spot cleaning dirty patches with a damp cloth or hanging jeans on a clothes line outside so they can get some fresh air. (I feel so vindicated by the latter piece of advice.)
While I'm not sure I'd like to live in a world where everyone washes their pants a mere twice a year, I'll definitely be saving my baby blues from destructive laundry machine tumbles as much as possible.