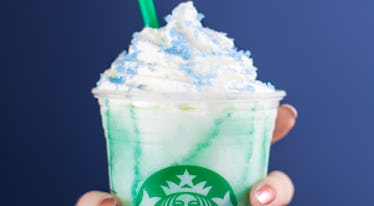 The Price Of Starbucks' Crystal Ball Frappuccino Is Magical, So Drink Up
Starbucks
I'll admit that like most human beings, I am extremely flawed. But in all honestly, I think one of my greatest downfalls is probably the fact that I spend an exuberant amount of my paychecks at Starbucks. I am only human, though, right? And if you're anything like me, there's a chance that you're fretting over how much a Starbucks Crystal Ball Frappuccino is going to cost, in anticipation for the well-being of your wallet. But don't worry about it too much, because the future is looking hella bright right now.
Despite the fact that your Magic-8 Ball might tell you otherwise, spending money at Starbucks is almost never a bad idea... especially when it comes to trying Starbucks' new Crystal Ball Frappuccino. Consisting of a crème-based Frappuccino with peach flavoring, it's mythically and mystically Instagrammable, complete with mysterious turquoise swirls. The elusive beverage will magically appear at Starbucks locations on Thursday, March 22, and it's set to only be available for four days, while supplies lasts, so getting one ASAP is mandatory. And although coffee money adds up, snagging a Crystal Ball Frappuccino won't do too much damage, as they won't cost more than $6. According to Starbucks, the drink will be priced at $4.95-$5.95, depending on what size you get. Not too bad! According to Starbucks, a Tall will cost $4.95 to $5.25, a Grande will cost $5.45 to $5.75, and a Venti will cost $5.95.
If you're looking to save a trip to Starbucks and if you happen to have a ton of Starbucks drink ingredients, it's defi nitely possible to save a little bit of that cash money and make your own Crystal Ball Frappuccino. A barista from Starbucks shared a recipe card for the Crystal Ball Frappuccino with Boing Boing, and it shows step-by-step instructions on how to make one yourself. If you end up having to run to the store to buy the ingredients, it could still save a little cash on enjoying them in the long run, so it's not a terrible idea to try it out. You'll just need some peach whipped cream, peach tea infusion, turquoise sparkles, a candy gem topping, White Chocolate Mocha sauce, a Frappuccino Crème base, and a few other items. If you're planning on indulging on the supernatural beverage frequently, it could be something to consider.
If you're a frequent Starbucks goer, though, and you're still trying to save a few bucks every time you go, there are a number of ways you can actually save money when you order. Coffee can be pricey, especially when you take several coffee breaks a day, so discounts are always graciously welcomed in my book. One way to snag a discount is to join Starbucks rewards. Ultimately, you'll end up getting free drinks every few times you go, as well as free refills. Another way is to replace your latte order with a Caffe Misto, because it's a similar drink, but it's significantly cheaper. Make sure to bring your own cup for cup discounts as well, and order "light ice" in any and all of your iced drinks; it'll fill your cup with more caffeine, and less frozen water. Finally, if you sign up for a Starbucks Visa, you can get a ton of benefits you'd never dreamed of, so that's totally worth looking into.
Even though coffee definitely is not cheap by any means, the Crystal Ball Frappuccino definitely won't break the bank at just under six bucks. And if you end up getting totally hooked on them, buying the ingredients to make one really isn't impossible — and it might ultimately save some cash. But there are so many ways you probably didn't know you could save money at Starbies, and all of them are definitely worth looking into.
Money couldn't tear me apart from getting the Crystal Ball Frappuccino, though. I am beyond ready for it to grace my life with all of its wisdom and intuition.