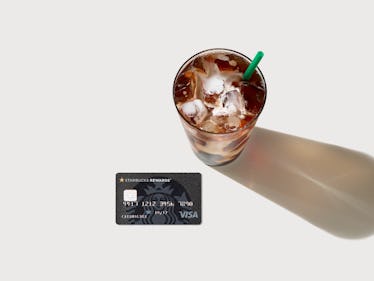 Starbucks Released A Visa Credit Card & Our Wallets Are Definitely In Trouble
Although it seems daunting, getting a credit card can actually lead to a lot of really great things. Building a good credit score makes renting things like apartments and cars a little easier, and it allows for short-term loans (that you should still pay back immediately). But most importantly, credit cards often lead to rewards. And while most credit card companies offer free miles or a percentage of cash back, there's now a Starbucks credit card that will give you major coffee-related benefits, which is kind of the dream. So here's how to apply for a Starbucks' Rewards Visa Card, if a lifetime of caffeine is one of the many benefits you want in your life.
To get your hands on one of these babies, just go to the Starbucks website, and apply for the Starbucks Rewards Visa Card. There's a mere $49 annual fee, per the website — and to apply, you have to first sign up to be a Starbucks Rewards member. Which, TBH, is always a good idea in the long run. According to the press release, Chase Bank officially co-released this plastic money lovechild with Starbucks on Feb. 1. Any and all cards can be used literally anywhere that accepts Visa, which, conveniently, is most places.
So now, to the fun stuff... the advantages you get from using a Starbucks Rewards Visa Card will blow your mind. To start, the perks of le Instant Gold Status are instantly bestowed on any and all cardholders. Gold Status means monthly double Stars (which are essentially points that lead to coffee), a personalized Gold Card, actual rewards for every 125 Stars earned, (aka lattes, croissants, you name it), birthday rewards, and even mobile order, as well as mobile pay. It's pretty tight, and it's def a major selling point for me.
Since you can earn Stars literally anywhere that accepts Visa, the world of rewards is kind of endless. Per the release, cardholders can earn one Star for every $4 spent outside of Starbucks, and up to three Stars for every $1 spent at Starbucks. So that basically just means that getting your frappuccinos and Spinach Feta Wraps on the house is really freaking easy, which is, obviously #lifegoals.
Users will also be able to link the card directly to their Starbucks account through the app, according to the release. This is actually a simple way for cardholders to score an additional 250 Stars. Cardholders that spend $500 in the first three months (which, if you have terrible judgement like myself, is actually quite easy) will then earn 2,500 "intro bonus" Stars. And that's apparently equivalent to 20 free food or drink items... so, the bottom line is that you'll really be ballin' with all of the complementary Starbies treats.
Last but not least, baristas will be selecting eight food or beverage rewards to be uploaded into each cardmember's rewards account throughout the year. Each item is then redeemable at any Starbucks location, as well as through mobile order. So you basically get eight free personalized surprises every year, which is kind of the best (and is honestly so thoughtful).
Matt Ryan, executive vice president and chief strategy officer for Starbucks, explained that the release of the Starbucks Rewards Visa is literally ideal for any Starbucks customers... and we're honestly already convinced. He said,
It's important to us to make earning Rewards as easy for our customers as possible, and the Starbucks Rewards Visa Card is a powerful tool for us to do that because of how easily it fits into their daily lives. This credit card also makes every day more rewarding for Starbucks and Chase customers through the ability to quickly earn Stars and benefits-including more food and beverage Rewards for any occasion.
Though spending money for the Stars will be, undeniably, incredibly tempting, the downsides of getting a Starbucks Rewards Visa seem few and far between. Between receiving Instant Gold Status, and a slew of very easily-earned free items, the Starbucks Rewards Visa sounds exactly like what every New York City resident (and beyond) could want and need. Because with a Starbucks on almost every corner, there's literally no limit to snagging a ton of rewards-earned blonde espressos.
Check out the entire Gen Why series and other videos on Facebook and the Bustle app across Apple TV, Roku, and Amazon Fire TV.