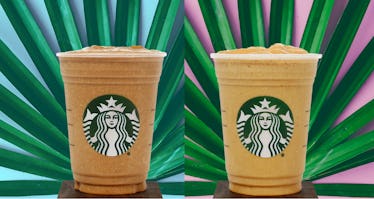 Starbucks' New Protein Blended Cold Brew Won't Break The Bank, So Drink Up
Starbucks
Two new drinks are gracing the Starbucks menu starting on Tuesday, Aug. 14. This exciting news only means one thing: You've got to try them. Starbucks' Almond Protein Blended Cold Brew and the Cacao Protein Blended Cold Brew will be available for a limited time, so order up while you can. When go to open up your Starbucks mobile app to pay for the new brews, you may be wondering if you need to reload your card. That's going to depend on your remaining balance, but the drinks are reasonably priced. How much does Starbucks Protein Blended Cold Brew cost? It won't break the bank.
Starbucks' Almond Protein Blended Cold Brew and the Cacao Protein Blended Cold Brew cost $5.95 each. There's no difference in price between the two new Protein Blended Cold Brews, but there is one catch. The drinks are only being sold in size grande. This means you won't be able to order a tall or venti. You don't need to, either. The new drinks are plant-based and contain at least 10 grams of protein.
You may associate protein with gym rats and bodybuilders, but protein can benefit everyone. According to the Harvard School of Public Health, men should consume 56 grams of protein per day, whereas women should consume 46 grams per day. Protein is a key nutrient in building muscles, tendons, organs, skin, and more.
If that's not enough protein for you, Starbucks will let you customize your Protein Blended Cold Brew. The coffee retailer will offer packets containing 7-8 grams of protein that can be added into either of its Protein Blended Cold Brew drinks. It's unclear if the extra protein is an additional cost, on top of the $5.95 price tag.
The drinks are made with Starbucks signature Cold Brew and mixed with Almondmilk and almond butter or Coconutmilk and cacao powder, depending on which Protein Blended Cold Brew you order. Both beverages contain plant-based protein, Banana Date Fruit blend, and ice. The two Protein Blended Cold Brew drinks are also made from 100 percent vegan ingredients, according to Starbucks. This is a first for the Seattle-based coffee retailer. It's important to note, though, that the drinks themselves are not certified vegan. This is because Starbucks uses shared equipment when making the Protein Blended Cold Brew beverages.
In May, Starbucks debuted two plant-based Doubleshot Coffee Smoothies with Almondmilk. The bottled smoothies are sold in two flavors: Dark Chocolate Banana and Vanilla Honey Banana. According to Starbucks, these are the first ready-to-drink coffee smoothies on the market.
Coffee patrons are looking for additional ways to add protein to their diets, according to Starbucks. It seems they are following customer trends with the addition of the two new Protein Blended Cold Brews. In my dream life, I have an unlimited coffee budget and my Starbucks card has a minimum of $50 loaded on it at all times where I can drink Protein Blended Cold Brew whenever I want. Again, dream life. But, for roughly $6 you can get your caffeine fix all while working toward reaching your daily protein intake goal. I can't say I'll be there every day to guzzle down a Protein Blended Cold Brew, but $5.95 per grande-sized beverage is a pretty great deal.