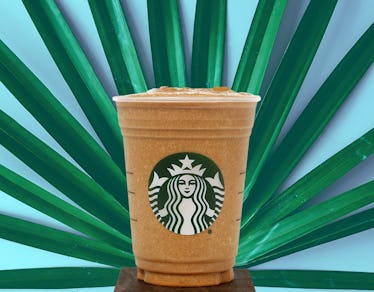 Starbucks' New Almond Blended Cold Brew Is Both Tasty & Healthy
Courtesy of Starbucks
The rumors are true: Starbucks is dropping two new drinks that will change the game for health and coffee lovers. While the coffee company has been offering dietary boosts to its drinks for a while now, today, it's releasing a pair of protein-packed coffee drinks that even those who eat plant-based diets can get excited over. If you're one of them, you'll be happy to know that the Starbucks protein blended cold brew flavors are finally here: almond and cacao. (Starbucks Baristas everywhere: Prepare yourselves for the inevitable requests for half-half combinations.)
Starbucks is rolling out its new drinks on Tuesday, Aug. 14, and they're guaranteed to be a hit. Per a press release, the Almond Protein Blended Cold Brew is made with almond milk, a plant-based pea and brown rice protein, almond butter, and Banana Date Fruit Blend. The Cacoa Protein Blended Cold Brew, in turn, comes with coconut milk, the plant-based protein, cacao powder, Banana Date Fruit Blend — and both, of course, come with Starbucks' cold brew coffee, for that necessary caffeine hit.
Particularly if you're vegan, vegetarian, or follow a plant-based diet, it can be difficult to find a smoothie that will accommodate those needs, so these new drinks are certain to be welcome (a heads up to vegans: though the ingredients themselves are vegan, Starbucks can't guarantee that the final drink is vegan since the same utensils are used to make non-vegan drinks). The company describes the drinks as plant-based and dairy-free, and the Grande size contains a hearty 10-12 grams of protein to start the day. (Plus, they're 270 calories or less.)
Finding a plant-based protein shake alone can be challenging, but now Starbucks fans won't have to sacrifice their caffeine intake to get their protein fix.
The drinks will be available starting Aug. 14, and will be around while supplies last. Though the company plans on keeping them available through the holiday season, you should still consider trying to get your hands on them ASAP. I would be willing to bet that they'll go fast.
But if you're already over summer drinks and ready to move on to fall, all hope isn't lost. Starbucks is also unveiling a handful of fall-themed treats this year, and you can probably guess what they're all about. This year marks the 15th anniversary of the Pumpkin Spice Latte (is it officially an era yet?) and to celebrate, Starbucks is releasing Pumpkin Spice Cookie Straws and Pumpkin Spice Flavored Flavored Ground Coffee K-Cup Pods in grocery stores nationwide so PSL fans can make them from home. (Don't worry, they'll also bring back other faves like the Pumpkin Spice Caffe Latte K-Cup Pods, VIA Instant Pumpkin Spice Latte packets, and to-go bottles of the PSL, too.)
And if you have to have that genuine, turn-of-the-season flavor? The real thing, the Pumpkin Spice Latte itself, is rumored to be returning by Aug. 28. Mark your calendars.
Basically, whatever you're in the mood for, Starbucks has you covered. Happy sipping!