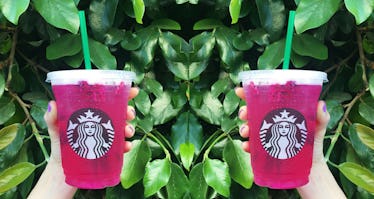 Starbucks' Mango Dragonfruit Refresher Has Just Enough Caffeine To Wake You Up
Starbucks
If you frequent Starbucks with any regularity, you know that the coffee chain has more than, well, coffee. From iced teas to chocolate beverages, Starbucks brews up a variety of drinks to keep you going all day long. That includes the newest addition to their menu: the Mango Dragonfruit Refresher. But does it pack the same caffeinated punch as they rest of the menu? Here's how much caffeine is in Starbucks' Mango Dragonfruit Refresher.
The Mango Dragonfruit Refresher is available in Starbucks stores throughout the United States and Canada as you read this. The fruity and colorful drink made its debut on Tuesday, June 19, but can Starbucks lovers expect the same caffeinated boost from the Mango Dragonfruit Refresher as their daily cup of coffee? Not so fast. While the Mango Dragonfruit Refresher does have some caffeine in it, it's not necessarily comparable to your average pot of coffee. Here is the breakdown of caffeine in all four sizes of Starbucks cups:
Tall: 35-45 milligrams
Grande: 45-55 milligrams
Venti: 70-85 milligrams
Trenta: 90-110 milligrams
For example, a grande-sized cup of Starbucks' Pike Place Roast has approximately 310 milligrams of caffeine. Of course, there's no way to know exactly how much caffeine is in your cup, but that's a fairly accurate rough estimate for you to go off of.
As you can see, the Mango Dragonfruit Refresher doesn't exactly stack up alongside the amount of caffeine in your basic cup of black coffee. But that's OK, because it's not supposed to. Starbucks labels their Refreshers Beverages as "the perfect afternoon pick-me-up," so while they are meant to give you that extra jolt you need come 3 p.m., they are not meant to match the amount of caffeine you consume in the morning.
With that being said, the amount of caffeine in the Mango Dragonfruit Refresher is about on par with other similar offerings from Starbucks. The Strawberry Acai Refresher has anywhere from 45-55 milligrams of caffeine in a grande-sized cup, just like the new dragon fruit drink. Honestly, I'm all about loading up on caffeine, because hello work week. I'm with Starbucks on this one. The Mango Dragonfruit Refresher offers the perfect mix of light and sweet fruit flavors, while also giving me that extra boost I need during my midday slump.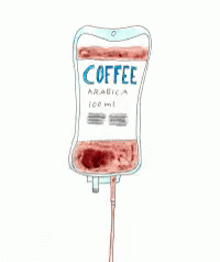 Made with a scoop of fresh dragon fruit, this drink is sure to take your tastebuds to Flavortown, as Guy Fieri might say. Joining the ranks of other pink drinks to grace the Starbucks menu, this brightly magenta-colored beverage is a delicious mix of juicy mango and red-ripe dragonfruit, hand-shaken together by the Starbucks barista and poured over ice. There are no artificial flavors or sweeteners in the Mango Dragonfruit Refresher, so what you see is what you get.
So while the caffeine isn't quite as much as what you might find in a cup of coffee, you can still wake yourself with a Mango Dragonfruit Refresher before or after that long afternoon meeting that's looming on your work calendar. If you haven't already, swing by your local Starbucks and order up your very own Mango Dragonfruit Refresher. The drink was released just in time for summer, but luckily, Starbucks is going to let you have this one all year long. The Mango Dragonfruit Refresher is a permanent addition to the Starbucks menu, so you can sip until your heart's content (or at least until you've cooled down enough from the warm summer temps).
Who knows, maybe the Mango Dragonfruit Refresher will show up for a Starbucks Happy Hour or two this summer. If so, make sure you are a Starbucks Rewards Member or have signed up for the Starbucks Happy Hour emails. Otherwise, you might just miss out on a much-needed afternoon pick-me-up.