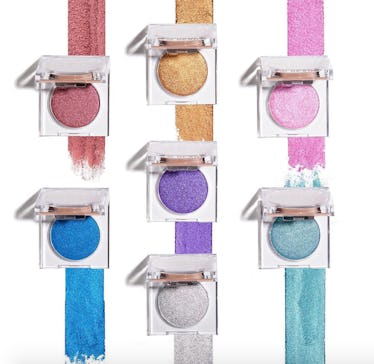 Forget About Your Wallet & Come Into The Light With Kim Kardashian's Mesmerizing New Launch
Kimmy K. has done it again, adding a brand-new collection to her KKW Beauty army. I don't know about you, but my biggest question is how much are the KKW Beauty's Flashing Lights Powders, because for the first time in history, I might actually pay up for the new line. Hear me out.
Now, I know this sounds crazy, considering I'm a full-time beauty writer and part-time product-hoarder, but I've never actually tried any of the KKW products. It's sad, I know, since it's my job to test everything out in the market, but the KKW collection has never landed on my desk. Her new pigments, though? They definitely have me reconsidering handing over my own dough.
On Oct. 19 at 12 p.m. PT, KKW Beauty is introducing two types of pigments to the award-winning makeup line. The Flashing Lights Loose Powders ($17, kkwbeauty.com) will come in seven beautifully iridescent shades, and can be applied with your fingers or with a brush. On her site, Kardashian West suggests sweeping the loose pigments over cheekbones, high points of the face, and on your body for your desired glow. I'm thinking these have the propensity to get messy, but in a beautiful kinda way.
The seven shades include Fire (a fuchsia with a hot pink flip), Rollie (hot pink with a yellow gold flip), Ice Glaze (blue with a pinky red flip), Floss (pinky purple with a pink flip), Guap (teal green with a gold flip), High Key (blue pink with a champagne gold flip), and Grill (bright silver).
The second addition to KKW Beauty's collection are the Flashing Lights Pressed Powders ($21, kkwbeauty.com). Also in seven shades, the pressed powders seem more jewel-toned, vibrant, and shimmery than the loose powders, which seem more subtle and iridescent. It's hard to tell though, as I'm just basing that observation from the pictures on their site. With a pearlized color finish, the pressed powders can be applied wet or dry, with a brush or your fingers, depending on the intensity you want.
Unlike the loose powders, I think these pressed powders are probably more suited for the eye area than anywhere else. The seven shades include Freaky (metallic scarlet), Big Bank (metallic warm gold bronze), New Drip (metallic royal blue), Flashy (metallic bright pink), Bands (metallic teal), Extra (metallic bright purple), and Glass (metallic bright silver).
Perhaps you're wondering what the difference is between the new Flashing Lights Loose Powders and the Ultralight Beams Powders ($70 for bundle of six, kkwbeauty.com), which were released in August. Based on my observations via the site, it looks as though the Ultralight Beam Loose Powders are loaded with straight-up shimmer, while the Flashing Lights Loose Powders don't necessarily have sparkly shimmer, but more of a soft, iridescent glow.
Whether you love the spotlight or not, you'll be forced onto center stage (with all eyes on you) wearing any of these KKW Beauty pigments. If you're trying to go all out, you can purchase the pigments in bundles — KKW Beauty is offering the Flashing Lights Loose Bundle ($106, kkwbeauty.com), the Flashing Lights Pressed Bundle ($134, kkwbeauty.com), or the Flashing Lights Complete Bundle ($240, kkwbeauty.com). Not for the shy at heart, the new launch will be sold out in probably a millisecond, so I'd have your credit card number memorized (if you don't already) and your confidence in tact and ready to shine.