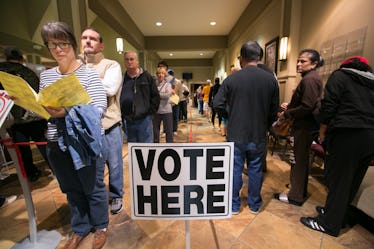 Turnout For The 2018 Midterms Has Already Hit A Record High
Jessica McGowan/Getty Images News/Getty Images
Tuesday, Nov. 6 is Election Day, and millions of voters across the country have already cast their ballots for the election. As the numbers begin to roll in — and the lines at polling places are ever longer — the big question is how strong turnout will be this year. So just how many people voted in the 2018 midterms? While the polls will still be open for several hours, the results are already staggering.
Voter turnout has been the Achilles heel of many U.S. elections — in the 2016 presidential election, only 60 percent of eligible voters cast ballots. On average, Americans' turnout at polls has been lower than most of its peers on the world stage. But as of Election Day, the numbers from early voting are looking positive.
Per the United States Election Project, the current total of advance ballots cast for 2018 as of 1 p.m. ET on Nov. 6 was 38.8 million — nearly 142 percent of the total number of advance ballots cast in 2014, which were around 27.4 million. And that's not counting the day-of ballots that are still yet to be counted, as well as any mail-in or absentee ballots postmarked on Nov. 6 which may not be counted for a few days — these will change the final tally of total votes cast.
It remains to be seen whether this year's total ballots cast, including early voting and day-of voting, will surpass the 2014 levels. That year's total was around 83.1 million. But these early signs are good.
Michael McDonald, a professor at the University at Florida who runs the Election Project, seems surprised by what he was seeing. "This is not a normal election," he told Politico, citing the already high numbers of early voters. He added, "The best guess is that we're looking at some sort of hybrid midterm/presidential election" in terms of voter turnout.
In general, midterm election years tend to see less voter participation than presidential election years. 2014 was a slightly lower turnout than in previous elections, with just over 36 percent of the eligible population casting ballots, the lowest number in decades. The average turnout for midterm elections has held around 40 percent, compared to an average turnout of 60 percent for presidential elections, according to FairVote.
There are plenty of factors that feed into this under-performance at the polls. Voter suppression, for one, or restrictions placed on voting and registration that make the process less accessible, can be a huge barrier to getting folks to the polls. Another part of the low turnout problem is that, for one reason or another, some Americans just don't bother to vote. But that doesn't appear to be the story this year.
Notably, while the most palpable energy has been on the Democrats' side for a while, with a steady stream of movements, marches, and protests since the 2016 election, recent pushes by the GOP — President Donald Trump and his kin especially — have energized the Republican base to turn out as well.
Many watching today's election will also be comparing the results against the yardstick of past midterms. The old rule of thumb has been that for midterm elections, the president's party generally hemorrhages seats in Congress — anywhere from a handful to a hundred (or more).
Leading up to the midterms, statistics site FiveThirtyEight projected that Democrats will pick up enough seats in the House of Representatives to take back control, while Republicans will keep control of the Senate and might even manage to pick up a seat or two there. Should this outcome happen as expected, the implications moving forward will leave the country in an interesting spot for the next two years.
This year's turnout is also projected to see major lift from millennial voters especially, thanks in part to youth-led movements earlier this year that pushed voter registration and civic engagement. An October survey from the Institute of Politics at Harvard's Kennedy School of Government found that 40 percent of millennials under 30 said they would "definitely" vote in 2018. And at 10 a.m. on Tuesday, students across the country left their classrooms to vote and support those who were in the #WalkoutToVote initiative, organized by a coalition of these youth activist organizations.
However big the turnout is at the polls on Election Day itself, the indicators are already clearly showing that this midterm election turnout is bound to dwarf the last one.