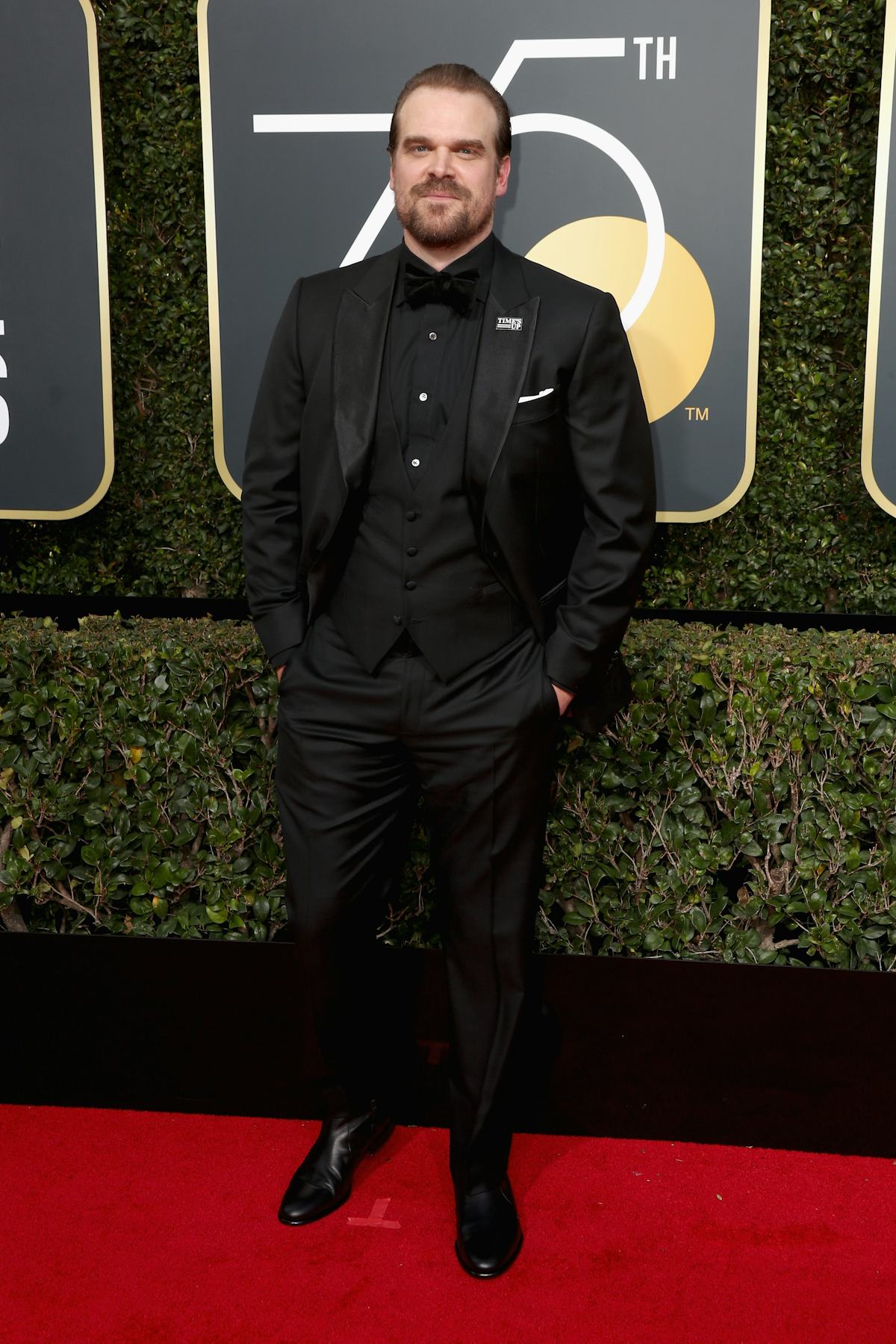 David Harbour's Reaction To 'Stranger Things' Losing A Golden Globe Is So Hopper
Frederick M. Brown/Getty Images Entertainment/Getty Images
Two is the magic number for Stranger Things 2. It's their second season. It's the second year they've been nominated at the Golden Globes. And like last year, they've landed two nominations. For the second year running, they've been nominated in the Best Drama category, against a murderer's row of shows including some of the same series they were up against last year. And they have a single acting nod again to go with that Best Drama nod. So how was Stranger Things' Golden Globes experience the second time out? Were they luckier than the first time?
We ask because even though Stranger Things is now in their second year of multiple nominations, last year at the Golden Globes didn't go so well. Yes, it's an honor just to be nominated – you get to go to the party and all that. But it's even better to win, and last year, that wasn't happening for the plucky little show that could do away with Barb.
Their one acting nod, which was for Winona Ryder in the Lead Actress category, lost out to Claire Foy for her turn as Queen Elizabeth II in The Crown. And in Best Drama, after facing down the likes of Westworld Season 1, This Is Us Season 1 and one old timer Game of Thrones Season 6, they lost out to... you guessed it, The Crown.
This year didn't go much better. Despite Netflix's clever move for David Harbour's nomination, they lost to Big Little Lies. And when it came to Best Drama, The Handmaid's Tale won there, as expected. And David Harbour, who plays Hopper, couldn't help but take to Instagram to share his thoughts on the loss.
Netflix certainly tried. They knew that a win in Best Drama probably wasn't happening for a second year in a row. The Handmaid's Tale walked in the favorite, and walked away with the category. They realized they probably also weren't going to get anywhere with Winona Ryder in the Lead Actress category again, not with Elisabeth Moss of The Handmaid's Tale and returning champ Claire Foy of The Crown both in the mix. It would just be setting them up for a repeat of last year.
But they wanted to assure themselves of at least one acting nomination somewhere. The problem, of course, is that most of their actors are children. They are adorable children, to be sure, whose stylists dress them startlingly well for the red carpet. Everyone loves them! They are great actors! But when it comes to nominations, kids don't get a lot of respect. (Game of Thrones can tell you all about that. Maisie Williams and Sophie Turner are still both waiting for the Hollywood Foreign Press to stop looking at them and seeing little kids and instead see actors doing some damn fine work.)
They could risk putting all their eggs in the Millie Bobby Brown basket, or hope that Noah Schnapp got recognized for his first major length of time on the show. But it wasn't a safe bet. To that end, they focused on the few adult leads they have. Instead of entering David Harbour, who plays Chief Hopper, into the regular Lead Actor category where he would be facing down the likes of Sterling K. Brown from This Is Us, Liev Schreiber from Ray Donovan, and Freddie Highmore from The Good Doctor, they stuck him in the (takes deep breath) "Best Performance by an Actor in a Supporting Role in a Series, Limited Series or Motion Picture Made for Television."
Yes, it's a mouthful of a category, but it also means that Harbour was at least able to land a nomination at all. But sadly, not a win.
Sorry, Stranger Things. Looks like it's 0 for 2, twice. Maybe third time will be the charm?