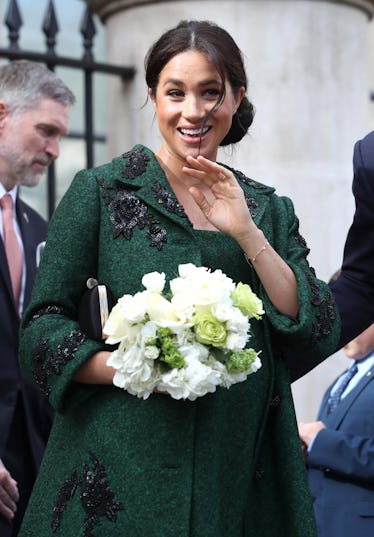 Here's How Long Meghan Markle May Be On Maternity Leave After Giving Birth
Chris Jackson/Chris Jackson Collection/Getty Images
Welp, we are now heading into the last days of April, and Meghan Markle is still preggers. She's got to be in the home stretch of her pregnancy by now, right? I mean, she reportedly told fans she was six months along back in January, so unless she was being seriously sneaky, the little royal babe she's expecting with Prince Harry is gonna arrive any minute now. WOOOOOHOOOOO! Don't @ me, guys. I'm just really excited for this precious little bundle to finally get here, OK? But I also have questions. Like, how long will Meghan Markle's maternity leave be? Because according to Page Six, the Duchess of Sussex isn't planning to take a whole lot of time off from her royal duties!
In fact, Meghan reportedly told her aides that she wants to "get back to work quickly." Elite Daily reached out to Buckingham Palace for comment on the speculation surrounding Meghan's maternity leave, but did not hear back by the time of publication.
"Meghan has made it very clear she wants to return to work as soon as possible," a source told Page Six. "She has huge amounts of energy, is extremely determined and wants to be as hands-on as possible with her charities. Nothing has been written into her diary just yet, as she wants to wait and see how she feels after having the baby. She's penciled in three months, but she'll most likely return to public life in six weeks — on the Queen's official birthday, Trooping the Colour, in June. Three months' maternity is standard in the US for American mums — they don't normally get the six or even 12 months women get here in the UK. So this is totally normal for Meghan."
I guess that all makes sense. Although, Meghan really could still change her mind and opt to take more time off once that sweet royal bundle arrives — which will most likely be any day now. I don't know how we got to this exciting place in time, but I'd be lying if I said I wasn't super-stoked about it.
Anyhoo, back when Markle's pregnancy was first announced in October 2018, Kensington Palace simply said the baby was due in Spring 2019. But then on Monday, Jan. 14, Meghan reportedly confirmed her due date to a fan, according to a report from Entertainment Tonight.
Here's what that report said:
The 37-year-old Duchess of Sussex greeted the crowds in Birkenhead, England, on Monday where, according to multiple royal reporters, she shared with a woman in the crowd that she is six months pregnant. Meghan also told another woman that her due date is late April to early May.
Elite Daily previously reached out to the Palace for confirmation on the reported due date at the time, but did not hear back.
Meanwhile, according to another report from Us Weekly, it looks like Prince Harry will reportedly be taking paternity leave, as well. Elite Daily reached out to the Palace for comment at the time but did not hear back.
"It's a modern thing," a royal expert and former Queen Elizabeth II spokesperson told the publication. "I mean, the older generation didn't do it. The older generation just got on with it. But it's a new thing. William did it and Harry is going to do it. [The length] depends on him. I would have thought no more than about two or three weeks."
So there you have it, fam.
Now just get here already, kiddo!