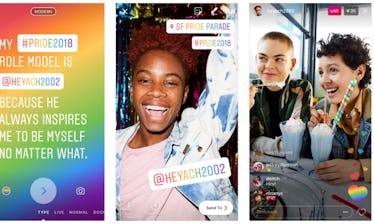 Instagram's Rainbow Pride Features Will Last Even Longer Than Pride Month
Instagram
Since the beginning of June, you may have noticed a slew of new rainbow features for Pride Month on Instagram. Between rainbow hashtags, hearts on Live videos, gradients, and so much more, there are so many ways to show your spirit through the app. But since Pride Month only lasts until June 30 (even though it should really be all year long), you're probably wondering how long Instagram's Pride features will be available... and I'm really hoping they'll just stick around forever.
On Friday, June 1, Instagram announced all of its new Pride Month features in a press release, describing Pride rainbow versions of Type mode backgrounds, hashtags, location stickers, and @mention stickers. They even added a new heart for Instagram Live — and if you want to show all the love, you can hold it down for a "shower of rainbow hearts" for whoever is watching. Needless to say, it's freaking beautiful.
However, while each and every one of Instagram's rainbow Pride features are absolutely gorgeous symbols of love, they won't last forever. In fact, Instagram tells Elite Daily that most of the features will be available through mid-July. However, rainbow Type mode and rainbow stickers will be permanent additions to the app. Yep, that's right: They'll be around past Pride Month, and I'm seriously elated.
To the dismay of several IG users, the update didn't pop up immediately for everyone. In the press release, Instagram announced that the update would become "available on iOS in the coming weeks," thus making Apple users totally late to the Pride game. However, these glorious features were available on Androids from the beginning, as they were immediately part of Instagram version 47. (TBH, I was real happy about it.) This one is going out to all of my fellow green texters, since we had immediate access to sweet Pride Month Instagram features. I just wish we could all continue to use them forever and ever.
If you haven't used any of the Pride features yet, it's about time you get on that. Start out by making sure that your IG app is updated, and once it is, log in and find all of IG's Pride features to get in on the fun. Check out the "Type" section in Stories to find the gorgeous rainbow gradient and to send a rainbow message to all your followers. You can also find rainbow versions of the @mention, hashtag, and location stickers in your Story's sticker tray. This way, you can send your friends literally all of the love. Finally, if you're all about those Live videos, you might notice a color-changing heart. It changes color when you tap it, and if you hold it down, you'll send a stream of hearts to creator of the video. Pretty sweet, right?
Planning on attending one (or like, five) Pride parades? Since you'll most likely be taking a ton of pictures and videos, make sure to take a look at this list of 30 Pride parade captions. Not only will they make your pictures stand out from the rest, but they're super cute, respectful, and fun. Some are quotes, others are cute sayings, and many are related to coming out, being proud, and spreading the love. I love them all.
There are a lot of really great things about June, but the best part has to be the fact that it's Pride month. Everyone is all about spreading the love, and it looks like Instagram isn't making an exception. I'm happy to know that the Pride features are sticking around, but I honestly wish they were all around for the long haul. Anyway, don't forget to show your Pride and spread the love. Happy love month, y'all.