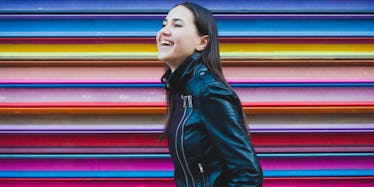 30 Instagram Captions To Use For Your Gorgeous Photos From The Pride Parade
If you've never been to a Pride parade before, here's what you can expect: rainbows everywhere, people smiling and laughing, and a hell of a good time. The vibes are incredible, and you'll definitely want to capture the fun memories on social media, complete with a popping photo and an epic Pride parade Instagram caption.
Besides the fact you'll have a summery and cute pic to add to your feed, my personal favorite part of Pride is seeing other LGBTQIA+ people united and loud. In day-to-day life, that kind of visibility isn't necessarily always there. At Pride parades, visibility is front and center.
Last year, I attended my first-ever Pride parade with my sorority friends. It felt awesome to have people who love and support me by my side for such a monumental day. For my Instagram caption, I chose to go with a simple "babashook. 🏳️‍🌈" (Remember The Babadook?) This year, only time will tell if there's an unofficial new gay mascot meme, but here's my stab at some Pride-friendly captions to go with your perfect pic.
(I'd like to note that my seemingly all-black T-shirt from this photo actually has a rainbow on the upper-left corner of the shirt. Just saying!)
1. "Gay as hell ¯\_(ツ)_/¯"
2. "Girls like girls like boys do, nothing new." — Hayley Kiyoko, "Girls Like Girls"
3. "Pride is the word I'm looking for." — Lin Manuel Miranda, "Hamilton,"
4. "Leaving traces of us down the boulevard." — Janelle Monáe, "PYNK"
5. "Rainbow vibes."
6. "Love is love is love is love is love is love is love is love." — Lin Manuel Miranda
7. "Make America Gay Again."
8. "Find out who you are and be that person. That's what your soul was put on this Earth to be. Find that truth, live that truth, and everything else will come." — Ellen DeGeneres
9. "I'm proud."
10. "If you're reading this, I'm gay."
11. "Let's get one thing straight: I'm not."
12. "Hope will never be silent" — Harvey Milk
13. "Let me be perfectly queer."
14. "Love wins."
15. "When all Americans are treated as equal, no matter who they are or whom they love, we are all more free." — President Barack Obama
16. "I can't even think straight."
17. "Got pride?"
18. "Sounds gay, I'm in."
19. "Yes, homo."
20. 🏳️‍🌈❤️
21. "The future is non-binary."
22. "I see the world through rainbow-colored glasses."
23. "It's important with all of the messages that might tell you otherwise that you have that in yourself to say that 'I am beautiful. I am smart and I'm amazing.'" — Laverne Cox
24. "This world would be a whole lot better if we just made an effort to be less horrible to one another." — Ellen Page
25. "Butch, please."
26. "I think being gay is a blessing." — Anderson Cooper
27. "Openness may not completely disarm prejudice, but it's a good place to start." — Jason Collins 
28. "Bi bi bi." — Not *NSYNC
29. "What is straight? A line can be straight, or a street, but the human heart, oh, no, it's curved like a road through mountains." — Tennessee Williams, A Streetcar Named Desire
30. "I'm my own person. I'm strong." – Miley Cyrus
This article was originally published on