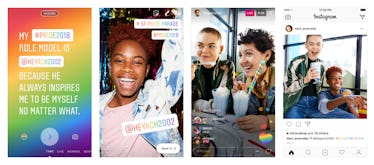 If You Don't Have Instagram's Pride Features On Your iPhone Yet, Here's Why
We're just a few days into Pride Month, and people are already so excited about using Instagram's new carousel of celebratory rainbow-hued features to show their support for the LGBTQ community. Unfortunately, there's one big caveat for Apple customers who've seen the colorful additions: They might not have them yet. While Android users can paint their feeds in every color of the rainbow right now, it'll take a few weeks to see Instagram's pride features available on iPhones. Until then, here's how you can start showering your social media with all the Pride.
In a release shared on June 1, Instagram announced that they were rolling out a host of fun Pride features that will let users bedazzle their Instagram stories with GLAAD-approved hashtags, rainbow backgrounds, and multi-shade text. You can even send your followers a shower of rainbow hearts when you're in Live mode simply by holding down the hearts feature and releasing it, so you can really feel the Pride love all month long.
When I first heard about the update, I immediately tried to jump on the multi-colored bandwagon alongside my friends, only to find that Instagram's regular gradient feature was the only option I had. Unfortunately for me and other iOS users, the new Pride features are not available on iPhones just yet. While there's no specific drop date named, Instagram revealed that the update will become "available on iOS in the coming weeks" per a press release. If you're an Android customer, you're in luck, because the features were rolled out immediately as part of Instagram version 47.
There are plenty of other ways to highlight the pride rainbow on your social media in the meantime. Before you're overtaken with all the FOMO when your friends with Androids have the whole month to deck out their 'Grams, be sure to check out Facebook's new Pride arsenal to show your support with some similar features.
On June 1, the social media platform released a set of customizable rainbow profile picture frames that you can keep around for as long as you want, according to a press release. Simply search "Fbpride" in the profile picture options, and you'll get to select one of the colorful designs to go over your current profile image.
In addition to the profile picture changes, you can go to the Camera feature to add multi-colored Pride masks, personalized text backgrounds, and Pride stickers to your News Feed or Stories, per a press release. However, if you're looking for last June's popular rainbow flag reaction button, you're out of luck, as it was reportedly nixed as part of the company's new policy on temporary buttons.
Lisa Stratton, a spokesperson for Facebook, confirmed that the pride reaction buttons from last year are no more to Business Insider, saying, "We are no longer doing custom reactions for major holidays or moments in culture."
One cool new feature that I can definitely get on board with are the pride month videos that both Facebook and Instagram are doing — and they're available right now. Even if you're an iOS user and you can't get in on Instagram's new pride features at the moment, I'd still recommend watching the app's inspiring video where five members of the LGBTQ community get to meet their role models IRL and talk about their lives and Pride. Instagram hopes that users will also share how their role models inspire them by tagging that special person in their lives with the hashtag #RoleModel.
Even though the Android-challenged might have to wait just a few more weeks for Instagram's Pride features to roll out, there are still plenty of opportunities to show your support for the LGBTQ community by making sure your other social media profiles are emblazoned in rainbow-everything.