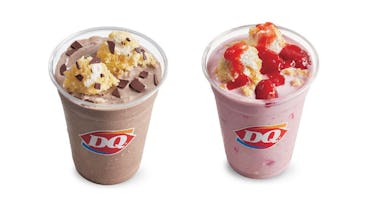 These New DQ Shakes Are Loaded With Actual Pieces Of Cake For A Bite Of Summer
These new Cake Shakes from Dairy Queen look like the answer to all of my prayers. I never really considered combining ice cream and large chunks of deliciously baked cake into a milkshake, but here we are. If you haven't seen these bad boys yet, you're in for a real treat. All of this got me wondering: How long will Dairy Queen's Cake Shakes be available? Something this special seems like it would only be around for a limited time.
As the weather starts to heat up just in time for summer, you may find yourself reaching for something cold and creamy to cool off. That's where Dairy Queen's new Cake Shakes come in. The frozen treats are available now and will remain on the menu for a limited time, according to Dairy Queen.
But, just how long will these delicious new Cake Shakes be hanging around? Per DQ, Cake Shakes are here to stay until the end of summer. Now, no exact end date was provided. However, the official end of summer is Monday, Sept. 23. Fingers crossed it stays on the menu until then. Or, at least until the "unofficial end of summer" which is usually thought to be Labor Day Weekend.
Either way, it's only April and that means you've got ample time to swing by your closest participating Dairy Queen location to try one of the two new Cake Shakes. First up is the New Strawberry Cake Shake. Berries make for the perfect warm-weather dessert, IMO, which is why I'm loving how refreshing this one sounds.
The New Strawberry Cake Shake combines real strawberries and blends them with milk and vanilla soft serve, according to Dairy Queen. It's all spun together by hand with vanilla layer cake. That's not all, though. This keeps getting better. I promise. To finish this elaborate shake, Dairy Queen tops it off with large chunks of cake and a helping of real strawberry syrup.
The second option is the New Chocolate Cake Shake. Chocolate lovers, prepare yourselves because this shake blends together chocolate toppings, milk, and vanilla soft serve for a smooth and sweet bite. Just like the Strawberry Cake Shake, this one is hand-spun with vanilla layer cake for a seriously scrumptious bite. It's finished off with large pieces of vanilla layer cake and choco chunks, per Dairy Queen. Each flavor is available in small, medium, or large sizes.
Adding cake to a milkshake is a totally genius idea, IMO. I applaud Dairy Queen for their ingenuity when it comes to the new Cake Shakes. The fast-food ice cream chain also has more good news coming your way. Starting on Monday, April 15, Dairy Queen is bringing back its DQ 2 for $4 Treat Nights promotion. Although the new Cake Shakes aren't included here, you can still choose from two medium dipped cones or sundaes for just $4. But, the Treat Nights offer won't be around as long as the new Cake Shakes. You have until Sunday, May 19 to get on the 2 for $4 dipped cone and sundae deal, according to Dairy Queen.
I think I'm going to need a spoon, not a straw, for these new Cake Shakes. After all, each one is loaded up with actual pieces of cake. Oh, a bib and a very large pile of napkins probably wouldn't hurt, either. Don't mind me.