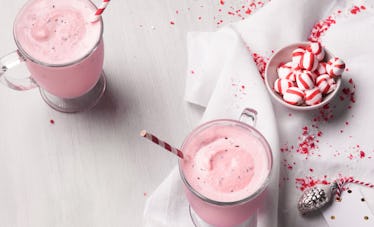 Chick-Fil-A's Peppermint Chocolate Chip Milkshake Will Disappear With The Holidays
One of the best parts about winter is indulging in all of the delicious holiday sweets. Between gingerbread cookies, peppermint lattes, hot cocoa, and more, it's by far the tastiest season of 'em all. Ever since November began, you've probably seen a handful of restaurants announcing limited-edition desserts in honor of the holidays. Well, Chick-fil-A also hopped on the seasonal bandwagon with a new milkshake that'll put you into the winter spirit. Now that December is approaching, you might be wondering how long Chick-fil-A's Peppermint Chocolate Chip Milkshake is available. As expected, it'll disappear with the holidays — so make sure you try one ASAP.
Don't panic, though. Chick-fil-A's holiday milkshake won't disappear the second New Year's Day comes to an end. Instead, it'll last a few days longer than that so everyone can enjoy a few sips going into the new year. More specifically, the Peppermint Chocolate Chip Milkshake will be available until Jan. 5, 2019. In other words, you'll still be able to enjoy the shake after the holidays come to end, but you'll have to act quick. For reference, Chick-fil-A's holiday shake has been available since Nov. 12, 2018 — so keep that in mind for next year in case the company decides to release it again.
Now that you know how long the Peppermint Chocolate Chip Milkshake will be available, you're probably wondering what it's made of. Thankfully, its name says it all. According to Chick-fil-A, the shake is made by mixing the company's "Icedream" with peppermint and chocolate chips. Then, it's topped off with whipped cream to give customers an extra kick of sweetness. Between its peppermint flavor, chocolate pieces, and creamy texture, Chick-fil-A's milkshake is a must-try this holiday season.
As you can imagine, the Peppermint Chocolate Chip Milkshake is currently available at Chick-fil-A restaurant locations. In order to find a location near you, visit Chick-fil-A's website, scroll to the top of the page, and hit "Find Location." Then, you'll be prompted to enter your address, city and state, or zip code. It's super easy — and once you find a local spot, feel free to take a trip and order a Peppermint Chocolate Chip Milkshake. Again, you have until Jan. 5, 2019 to give one a try.
Also, for those of you who are curious, Chick-fil-A created a list of the cities that ordered the most Peppermint Chocolate Chip Milkshakes in 2017. It turns out the folks in Erie, Pennsylvania love them the most — so if you want your city to be on top of the list this year, start ordering.
Chick-fil-A isn't the only restaurant offering a refreshing peppermint dessert, though. In fact, Dairy Queen is currently selling its Candy Cane Chill Blizzard in honor of the holiday season. Like Chick-fil-A's Peppermint Chocolate Chip Milkshake, the Candy Cane Chill Blizzard features pieces of peppermint and chocolate blended into DQ's vanilla soft serve. It's also only available for a limited time — so anyone who wants to try it should order one during the holiday season.
Whether you're craving a milkshake or a Blizzard this winter, you have options. I don't know about you, but I'm hoping to try both desserts. The more peppermint, the better... right?