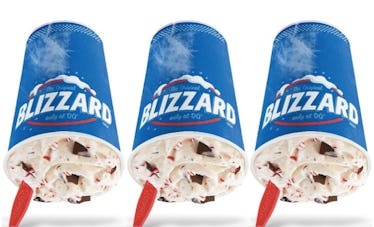 Dairy Queen's New Holiday Blizzard Has Actual Chunks Of Candy Canes In It
I know it isn't technically December yet — but now that Thanksgiving is over, you can finally start embracing the holiday season. That means it's time to decorate your homes, build gingerbread houses, and indulge in your favorite seasonal desserts. Thankfully, Dairy Queen reintroduced a Blizzard that's perfect for holiday snacking. Why? Because Dairy Queen's Candy Cane Chill Blizzard of the Month is filled to the brim with candy cane pieces, which means you won't have to pull any off of the tree in order to get the peppermint taste you know and love. Instead, you can head to DQ and grab a spoon.
Candy cane pieces aren't the only seasonal goodies that are mixed into Dairy Queen's Cane Cane Chill Blizzard, though. According to DQ, the dessert also includes chocolate chunks amongst the peppermint pieces. Both the chocolate and the candy cane additions are mixed into vanilla soft serve ice cream, which makes the dessert perfect for anyone craving something chilly in honor of the winter season. Between candy cane pieces, chocolate chunks, and sweet vanilla ice soft serve, the Candy Cane Chill Blizzard is the perfect dessert for anyone craving a refreshing (and sweet) holiday treat.
Plus, it even looks festive. The striped candy cane pieces are already putting me into the holiday spirit, and I haven't even tried a spoonful yet.
Unsurprisingly, the Candy Cane Chill is the Blizzard of the Month for December, which means it's probably only going to be here for a limited time. According to Dairy Queen, it'll be for sale at participating locations — so find your closest DQ and get ready to indulge. Depending on how hungry you are when you visit, you can buy the Candy Cane Chill Blizzard in a mini, small, medium, or large. (I have a feeling I'm going to end up opting for the large. The more candy cane pieces, the better... right?)
If you're more of a chocolate person, then maybe you'd be interested in another holiday Blizzard that Dairy Queen released in honor of the season. I'm talking about the Oreo Hot Cocoa Blizzard, which features actual Oreo cookie chunks (YUM). To make the Blizzard, those Oreo cookie chunks are mixed with cocoa fudge and then blended together with Dairy Queen's soft serve vanilla ice cream. The final product is topped with whipped cream and served to customers who have a soft spot for chocolate (ahem, like me).
In other words, if you're craving hot cocoa but don't want to sip on a warm beverage, Dairy Queen's Oreo Hot Cocoa Blizzard might be the best choice.
I don't know about you, but I'm hoping to make a DQ stop as soon as possible so I can try one (or both) of the company's holiday Blizzards. When you think about it, both options are perfect for anyone with a sweet tooth. Whether you're craving a refreshing seasonal snack or a rich and chocolatey dessert, Dairy Queen has you covered. As always, make sure you try these seasonal Blizzards while they're available throughout the season. You don't want to miss these holiday exclusives.