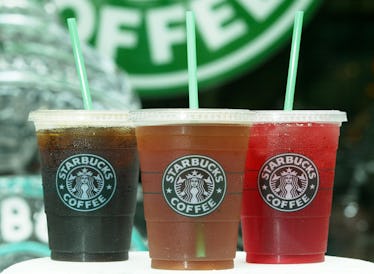 Starbucks' Summer Game Gives You So Many Chances To Win Free Sips & Bonus Stars
Alex Wong/Getty Images News/Getty Images
If you're a frequent Starbucks-goer, you might have heard of the coffee chain's Summer Game, which gives Starbucks fans a chance to win some seriously great prizes. To play, all you have to do is create a free Starbucks Reward account — and if you already have one, you can get right into it. The 2020 game launched on Tuesday, July 21, but how long does Starbucks' Summer Game last? You have plenty of time to play and score some sweet prizes.
Starbucks' Summer Game is back a little earlier than usual, which means it's also ending earlier than last year. The online game went live on July 21, and Starbucks Rewards members can play through Sunday, Aug. 23 at 11:59 p.m. PT. If you haven't gotten started, you still have plenty of time. And when you go to the Summer Game website to play for the first time, you'll even get a free game play. If you're not a Starbucks Rewards member, you can sign up for free here.
So what's up for grabs with the Summer Game? There are instant win prizes and chances to be one of 100 grand prize winners. When you play the game, you release a ball in what looks like a pinball game, and then it ricochets around to either fall out at the bottom or land in an instant win bucket. If it falls, then you're entered into the grand prize sweepstakes, but if it lands in the bucket, you get an instant win prize.
The goods include 2,500 first prizes of 200 Bonus Stars; 5,000 second prizes of 150 Bonus Stars; and 150,000 third prizes of a coupon for a free Cold Brew or Iced Coffee Beverage of any size at Starbucks. You can see the full prize list in the official rules. As for the grand prize sweepstakes, Starbucks will select 100 grand prize winners on or around Monday, Aug. 24. The prize will be based on the number of entries received during the sweepstakes period, and the winners will get between 500 and 30,000 bonus stars.
You can earn plays by making purchases at Starbucks during the sweepstakes period, or you can request a free play by filling out the free play form on the Summer Game website.
If you purchase a sip at Starbucks to earn game plays, follow the Centers for Disease Control and Prevention's (CDC) coronavirus pandemic guidance as of June 15. It includes going out only when necessary, wearing a cloth face covering when you go out, using contactless payment methods when possible, and sanitizing your hands often. Starbucks' COVID-19 precautions include abiding by social distancing for in-store pick up, requiring baristas and customers to wear face masks, and offering contactless payment options.
If you think you're showing symptoms of coronavirus, which include fever, shortness of breath, and cough, call your doctor before going to get tested. If you're anxious about the virus's spread in your community, visit the CDC for up-to-date information and resources, or seek out mental health support. You can find all Elite Daily's coverage of coronavirus here.
Editor's Note: This post was updated on July 23, 2020, to reflect the updates for the 2020 Summer Game at Starbucks.
This article was originally published on