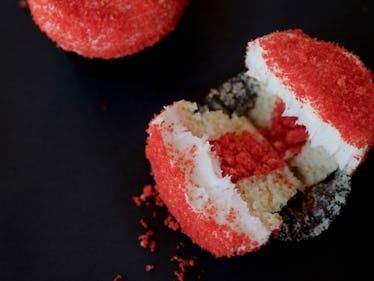 Flamin' Hot Cheetos Cupcakes Are Here For A Limited Time & You Need To Try One
Dessert doesn't always have to be sweet, and one bakery is pushing the limits when it comes to cupcake flavors. Sprinkles — home to the beloved Cupcake ATM — released a new menu item that'll leave your mouth on fire. It's called the Flamin' Hot Cheetos Cupcake, and it's literally filled with Flamin' Hot Cheetos (!!!). As someone who loves savory snacks, I'm extremely excited about the new selection. If you agree, you might be wondering how long Sprinkle's Flamin' Hot Cheetos Cupcakes are available. I hate to alarm you, but you don't have much time to try one.
Sprinkles' Flamin' Hot Cheetos Cupcakes are only available from July 26 to July 29. That means you only have a few days left to travel to your nearest Sprinkles bakery in pursuit of the "flamin' hot" dessert. Thankfully, they will be available in all Sprinkles locations — and you can find one closest to you by checking out this map on the company's website. Before you grab your car keys and leave for your bakery trip, make sure you have your wallet on you. The Flamin' Hot Cheetos Cupcake will cost $4 to $5.25, depending on which location you visit. That's a pretty great deal for a dessert that combines cake with Cheetos, don't you think?
I mean, come on. LOOK AT IT.
In order to make the Flamin' Hot Cheetos Cupcake, Sprinkles takes its rich vanilla cake and cores it. Then — you guessed it — they stuff the cupcake with crushed Flamin' Hot Cheetos. Can you imagine taking a bite into this thing? First, you'd get the fluffy cupcake exterior — and then, you'd taste the fiery crunch of Cheetos in the center. It's the perfect combination of spicy and sweet.
That's not where the heat ends, though. After topping the cupcake with Sprinkles' new White Cheddar Cheese Frosting, they dust even more Flamin' Hot Cheetos onto the surface. I'd like to think the combined flavor of white cheddar cheese and Flamin' Hot Cheetos is irresistible, and I can't even imagine how it tastes attached to a vanilla cupcake. My mouth is watering.
Let's take another look at the fiery dessert, shall we?
Sprinkles announced the cupcake via Instagram a day before its release, and the caption will get you stoked. In the post, the company wrote, "You guysss... don't ignore your guilty pleasure! Flaming Hot Cheetos cupcake starts tomorrow! Fluffy vanilla cake filled with Flaming Hot Cheetos topped with creamy white cheddar frosting and dusted with crushed 🔥 Cheetos. #bakersgonnabake#treatyoself."
I am definitely going to follow the bakery's lead and #treatmyself.
Again, make sure you head to your nearest Sprinkles bakery between July 26 and July 29 if you wish to try the Flamin' Hot Cheetos Cupcake. It's only available for a limited time, and your taste buds will thank you.
The Flamin' Hot Cheetos Cupcake isn't the only Cheetos-flavored dessert to hit the market this year. At the beginning of July 2018, Big Gay Ice Cream in New York City released Cheetos-flavored ice cream. The order consisted of cheese-flavored vanilla ice cream being rolled in Cheetos dust, and it was a huge hit.
Unfortunately, it was only available for a limited time — so fulfill your Cheetos craving with a cupcake from Sprinkles. Here's to hoping more restaurants incorporate Cheetos into their desserts.