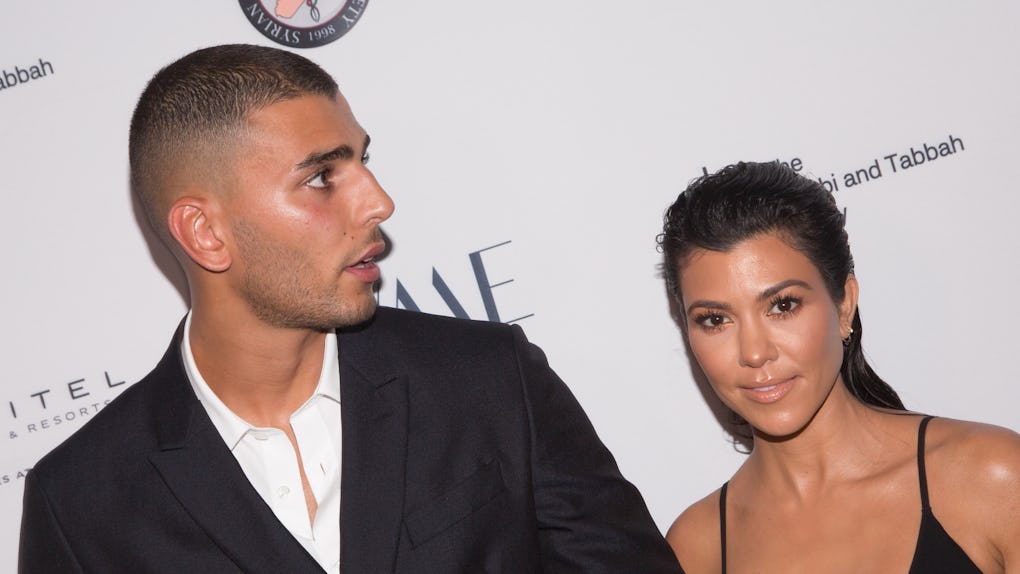 Gabriel Olsen/Getty Images Entertainment/Getty Images
How Kourtney Kardashian & Younes Bendjima Started Dating Puts Their Split Into Perspective
Kardashian fans might still be reeling from the news that Kourtney Kardashian and her long-term ex-boyfriend Younes Bendjima reportedly broke up. But, it sounds like they don't actually have to fear. Kourtney is doing just fine, in fact. Sources are revealing new information on how Kourtney Kardashian and Younes Bendjima started dating in the first place, which might give folks new perspective on their split. To be frank, it sounds like Kardashian always knew they were never going to last and was mostly using her relationship with Bendjima as a tool to move forward after a tumultuous decade with her ex, Scott Disick.
According to a source who spoke with People magazine, "Younes was always supposed to be a rebound." Harsh, but maybe true. The insider continued, "Kourtney doesn't play games. She seems okay with [the breakup.]" Elite Daily reached out to Kardashian and Bendjima's teams for comment on the report, but did not hear back by the time of publication.
At the beginning of Kardashian's courtship with Bendjima, things with her kids' father, Disick, seemed to be at a familiar low. If fans recall, sisters Kim and Khloé were encouraging Kourtney to put herself out there, and Season 14 of Keeping Up With The Kardashians showed a revitalized and positive change in the eldest sister. It would be understandable that meeting and dating Bendjima was a positive boost while it lasted, but it's also OK if it was never meant to be forever.
The beginning of the end seemed to be when Bendjima left a judgmental comment on one of Kardashian's bikini photos. The source told People, "As soon as their long European vacation was over, they started having problems. Younes was in L.A. recently, and things were not great. He and Kourtney didn't get along. They decided to take a break but were not officially over."
However, since then, photos surfaced of Bendjima getting close and comfortable with another woman named Jordan Ozuna during a vacation in Mexico. TMZ reports it was enough for Kardashian to pull the plug for good. "Now with the pictures of Younes in Mexico, they are definitely not getting back together," the source says. Elite Daily reached out to Kardashian and Bendjima previously for comment on the breakup rumors, but did not hear back by the time of publication.
Kardashian was last spotted palling around on Snapchat with her sister Kim, and she seemed, ya know, fine.
Meanwhile, Bendjima jumped onto his own Instagram stories to write a message to the media trying to explain his feelings and where he stands on the whole thing. He wrote:
"I'm not attached to this 'life' so you can't touch me. I know who I am where I'm from and where I'm going and that bothers you. Only one opinion matter the one of my Lord Have a wonderful day."
Hilariously, Kim defended Kourtney and commented, "Nice pics from your 'boys trip.'" She also added the Pinocchio emoji, presumably referencing the photos of him and Ozuna and suggesting he's a liar.
I'd say I hope Kourtney is doing OK, but fans know she is. If there's one thing true about Kourt, it's that she's the queen of keeping her chin up and moving on.