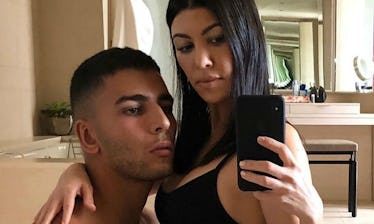 Younes Bendjima's Comment On Kourtney Kardashian's Photo Was A Joke, Apparently & Riiiiight
INSTAGRAM/KOURTNEYKARDASHIAN
Younes Bendjima stirred up quite a bit of drama when he made a negative comment on a sexy pic Kourtney Kardashian recently posted to Instagram. Bendjima apparently wasn't happy with her showing so much skin. But now, a source close to the couple is calling Younes Bendjima's comment on Kourtney Kardashian's photo a joke.
According to a new Us Weekly report, which was published on July 19, Bendjima didn't mean for the comment to be taken so seriously. Us Weekly's insider source, who is reportedly close to Kardashian, explained the situation after fans took offense to the shady comment.
"It was him trying to make a joke, and it wasn't perceived well on Instagram," the source said. "He doesn't realize that making a joke could be perceived as something totally different or negative."
Elite Daily reached out to Bendjima's team for comment on these claims, but has not heard back at the time of publication.
"Thats what you need to show to show to get likes?" Bendjima commented on Kardashian's bikini pic on Monday, July 16.
In the photo, Kardashian sits on a patch of grass wearing a large straw hat and a floral thong bikini. The 39-year-old Keeping Up with the Kardashians star is no stranger to posting revealing photos, but this one seemed to really irk Bendjima.
While Kardashian didn't respond to Bendjima's comment publicly, a source close to her told E! News that she didn't like Bendjima's impulsive comment.
"Kourtney doesn't appreciate Younes posting his feelings in a public forum and being impulsive," E! News' source revealed. "She's frustrated that he continues to get upset about it. She isn't going to stop doing what she's doing and feels like he needs to understand and deal with it." Elite Daily previously reached out to Kardashian and Bendjima's teams for comment on the report, but did not hear back by the time of publication.
E! News' went on to explain that Bendjima supposedly has a tendency to be jealous and, as a result, becomes possessive over Kardashian.
"Younes gets jealous and can be possessive of Kourtney," the source said. "When she posts half naked pictures, he gets very upset. He wants her for himself and doesn't want to share her with the world."
Despite the couple's differences, Kardashian and Bendjima's relationship is still really strong, according to Us Weekly's July 19 report.
"They're fine. Everything is fine with their relationship," Us Weekly's source said of the current state of the relationship. "Kourtney has posted a lot of racy photos. Younes has liked them all in the past."
At the very least, Kardashian and Bendjima are moving past this very public hiccup and that's always a positive thing. Kardashian and Bendjima have been dating for almost two years. The two met in France during Paris Fashion Week in October 2016.
Kardashian explained how they first met in a 2017 episode of Keeping Up with the Kardashians:
He was friends with our friends. He would walk in, say hi, shake hands with, like, our security or whatever, but, like, not say hi to us. And then I was like, 'Why do you hate us?' I was just drunk. Once I said that he literally like grabbed my hand and was like, 'It's five in the morning. We're leaving.' And then the next night Younes was like, 'Bring your ass here.'
The relationship grew from there and they've basically been inseparable ever since.