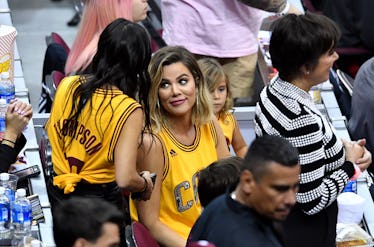 People Can't Wait For Khloé Kardashian's Baby, But We Don't Know How Long It'll Be — UPDATE
Jason Miller/Getty Images Sport/Getty Images
On Wednesday, Dec. 20, Khloé Kardashian finally gave us the news we've all been waiting for and confirmed that she is, indeed, pregnant. Now, of course, all questions revolve around how far along Khloé Kardashian is into her pregnancy. As happy as America is for her confirmed pregnancy — since fans know how badly she wants to be a mother and how hard this journey has been for her — however, it's important to remember that it's her pregnancy. Not ours.
UPDATE: After a fan asked on Twitter how many months along Khloé is in her pregnancy, the star shared that she's nearly six months pregnant. She'll hit the six-month mark next week, around Jan. 1.
That means that Khloé is likely due on or around April 1! It sounds like her baby with Tristan Thompson will likely be a little Aries.
EARLIER: Yes, the Kardashians handed their lives over to be watched, fawned over, and scrutinized by the public. But they did so in a controlled environment through their reality television shows. At the end of the day, they tell fans what fans get to know — fans don't get to demand to know every detail about their lives, especially when it involves something as significant as a pregnancy. This was something that Khloé alluded to in her Instagram post announcing (well, confirming, really) her pregnancy. After taking a paragraph to shout some love and thanks to her boyfriend, Tristan Thompson, she wrote a bit to the fans.
"I know we've been keeping this quite but we wanted to enjoy this between our family and close friends as long as we could privately. To enjoy our first precious moments just us," Kardashian wrote in the caption, adding an emoji red heart. "Thank you all for understanding. I am so thankful, excited, nervous, eager, overjoyed and scared all in one! But it's the best bundle of feelings I've ever felt in my life!"
Rumors first started spreading that Khloé might be pregnant back in September of this year. Generally speaking, people start spreading the news of a pregnancy after 12-ish weeks. That's because the early stages of a pregnancy can be risky in terms of possible miscarriages and other issues. So if you really, really just can't wait for Khlo to confirm some sense of timing, you can use that as a super general gauge. Let's speculate that in September, Kardashian hit 12 weeks of pregnancy. Extrapolating from there, you could expect that she would give birth in early 2018, possibly sometime around March (March Madness, anyone?). Then again, this is pure speculation! For all we know, she waited for her 20-week ultrasound to let people know (the 20-week ultrasound is really important for checking on the health of a fetus).
If you don't want to use pregnancy tropes to make a guess for when this world will be blessed with a baby KoKo, you could try on some gossip. PEOPLE reported in late October that Khloé and Tristan would be having a child in early 2018, according to multiple sources. Now, when, exactly, "early" 2018 is is a subjective question, so that's up to you, bbs. (Also according to that same PEOPLE report, they're expecting a boy!)
Ultimately, it's up to Khloé if fans will get to know approximately how much longer it'll be until she gives birth. I know sometimes it feels like we're owed every detail of these women's lives, but we really are not. If she wants to share how far along she is, she'll share it... and let's be real about this, chances are, fans will know a whole lot more about all the details of her pregnancy just as soon as we get to the next episodes of Keeping Up With The Kardashians. I mean, if I got to see Kourtney Kardashian literally pull her daughter out of her vagina, I have a feeling I'll get to know a whole lot more about Khloé's pregnancy. Patience is a virtue, people!