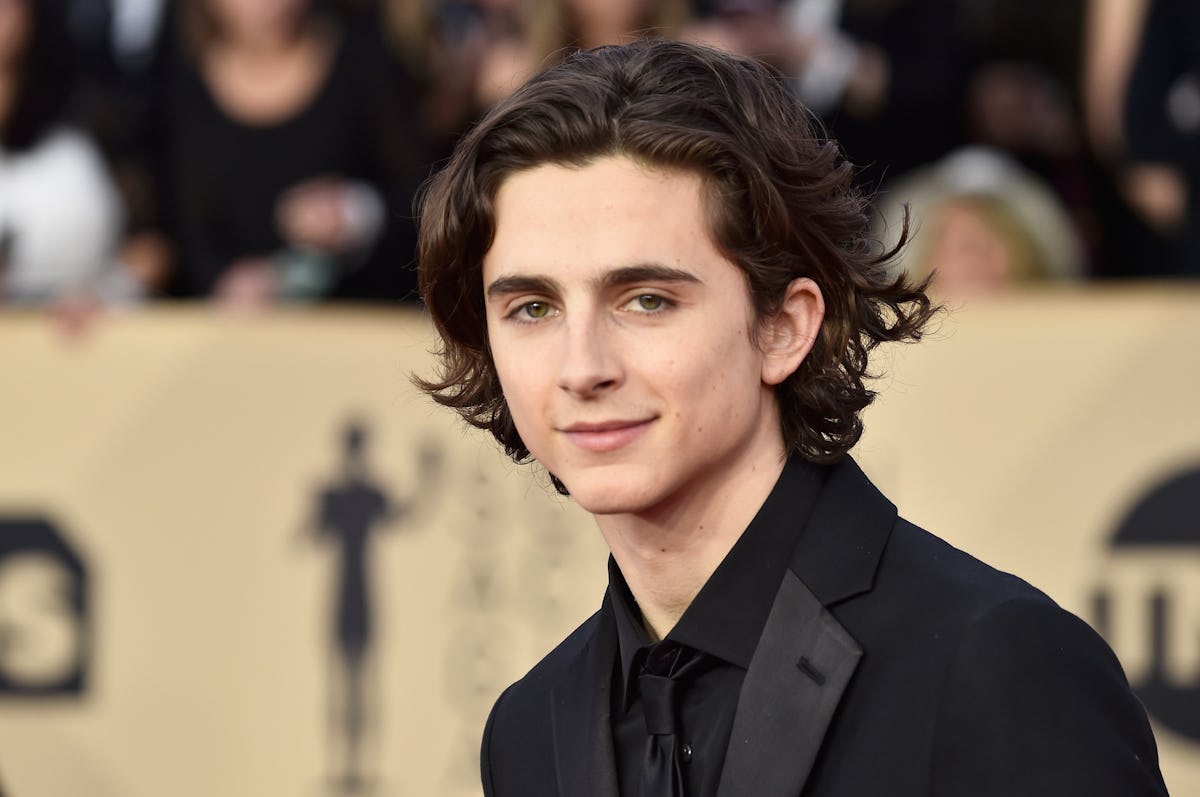 Timothée Chalamet's Name May Look Intimidating, But It's Actually Easy To Pronounce
Frazer Harrison/Getty Images Entertainment/Getty Images
With the 90th Oscars only 4 days away, it's time to start brushing up on your film industry water cooler talk. Things like, "I loved Beanie Feldstein in Lady Bird," or "It's ridiculous that Get Out was considered a comedy at the Globes" are a good start, but what about the hard stuff, like knowing how to pronounce Timothee Chalamet's name? Chalamet is nominated for Best Actor for his super emotional performance in Call Me By Your Name, so if you really want to impress your friends on Monday morning, you'll have to be able to rattle off his French name without hesitation. Luckily, "Timothée Chalamet" isn't actually all that difficult to pronounce, so with a little practice, you should be good to go in no time.
Let's start with the first half of the 22-year-old actor's name. Chalamet's father is French, so it's no surprise that his parents named him with the French spelling of "Timothée." But don't let the accent mark fool you, because he actor pronounces his first name the American way, "Timothy." Or, if you manage to get into Chalamet's inner circle — as Madonna's daughter Lourdes Leon did when the young stars dated in 2013 — you can call him "Timmy."
The actor's last name is a little more difficult to master. Is it "CHAL-a-may?" or "SHALL-a-met?" or "CHAL-uh-met?" Presenters have been butchering the star's last name all awards season long (Chalamet explains that someone once called him Timothee "Chair-mont"), so it's not shocking that fans at home may be a little bit confused about how to pronounce it. The correct pronunciation of his last name is "SHALL-uh-MAY." Think niceties like "shall we?" and "may I?" and you've got it. As Pop Sugar reported in January, you can hear Chalamet pronounce his own name at the beginning of this 2014 Teen Vogue video.
Chalamet isn't the only star whose name has been mispronounced all season long. His Lady Bird co-star Saoirse Ronan has a very Irish name (and a super cute accent to boot), and she's had to explain to every red carpet reporter and talk show host she encounters how to pronounce "Saoirse." When you're nominated for every major award from November to early March, that has to get exhausting. In a 2016 interview with Ellen DeGeneres, the Irish actor explained that "Saoirse" translates to "freedom" in English, and that her name "holds a real importance" in Ireland, even though it's kind of uncommon. Ellen seemed to understand that Ronan's name is pronounced "SER-sha," like "inertia," but she didn't hesitate to bring up Dennis Quaid's total butchering of her name at the 2015 Golden Globe nomination ceremony. In perhaps the worst attempt at pronouncing Ronan's first name ever, Quaid called her "Shee-sha" Ronan before announcing her nomination for Best Actress in a Drama for Brooklyn. Oof, Dennis. "Shee-sha?" Did no one prep you backstage?
Ronan tried to further clear things up for fans when she hosted Saturday Night Live back in December. The Irish actress devoted the majority of her monologue to teaching viewers how to pronounce her name, and she even performed a song to make sure the correct pronunciation sticks in our minds. The song's melody is super catchy, but in true SNL form, it doesn't exactly clear anything up for us.
Chalamet and Ronan are good sports about their hard-to-pronounce names, but both are hopeful that they've done enough press this season that people will finally begin to pronounce their names correctly. "I feel like the word has been spread enough this season," explained Ronan in a red carpet interview with Chalamet and Giuliana Rancic. "And Timmy knows how to pronounce it, so he's going to teach people," she added, smiling at her Lady Bird co-star. Swoon much?
Watch their adorable interview below for more name-butchering fun.