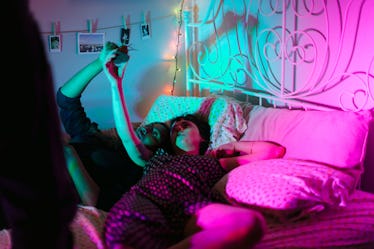 8 Women Reveal Their Strategies For Figuring Out If You Actually Like Someone
Cinemalist, Stocksy
You might be seeing someone new — maybe it's been one or two dates, or maybe it's been several months. Sometimes, you realize you enjoy spending time with them (or you wouldn't still be hanging out), but you're not sure what your feelings are. Do you like them? Do you want to be in relationship with them? Do you want to continue using their Netflix account? You might want to know if it can get more serious, and you might ask yourself, how do you figure out if you actually like someone? Not everything has to turn into a relationship — casual dating is totally fine if it's what both of you want, but it's always good to know how you're feeling.
To answer that question, I asked several women who've been in the same place as you. Dating can be tough, and it's really helpful to know how other people are navigating the same waters you're treading. Sometimes, knowing if you actually like someone is a feeling in your gut, sometimes you take guidance from your friends, or sometimes you journal about it. I've even trusted the universe before to tell me if I actually liked someone ("the universe" is what I call my therapist). You may have your own strategy for evaluating feelings, or you may be unsure, and this advice could help.
Read on to hear about women who've been in your shoes and figured out for themselves whether or not they liked someone.