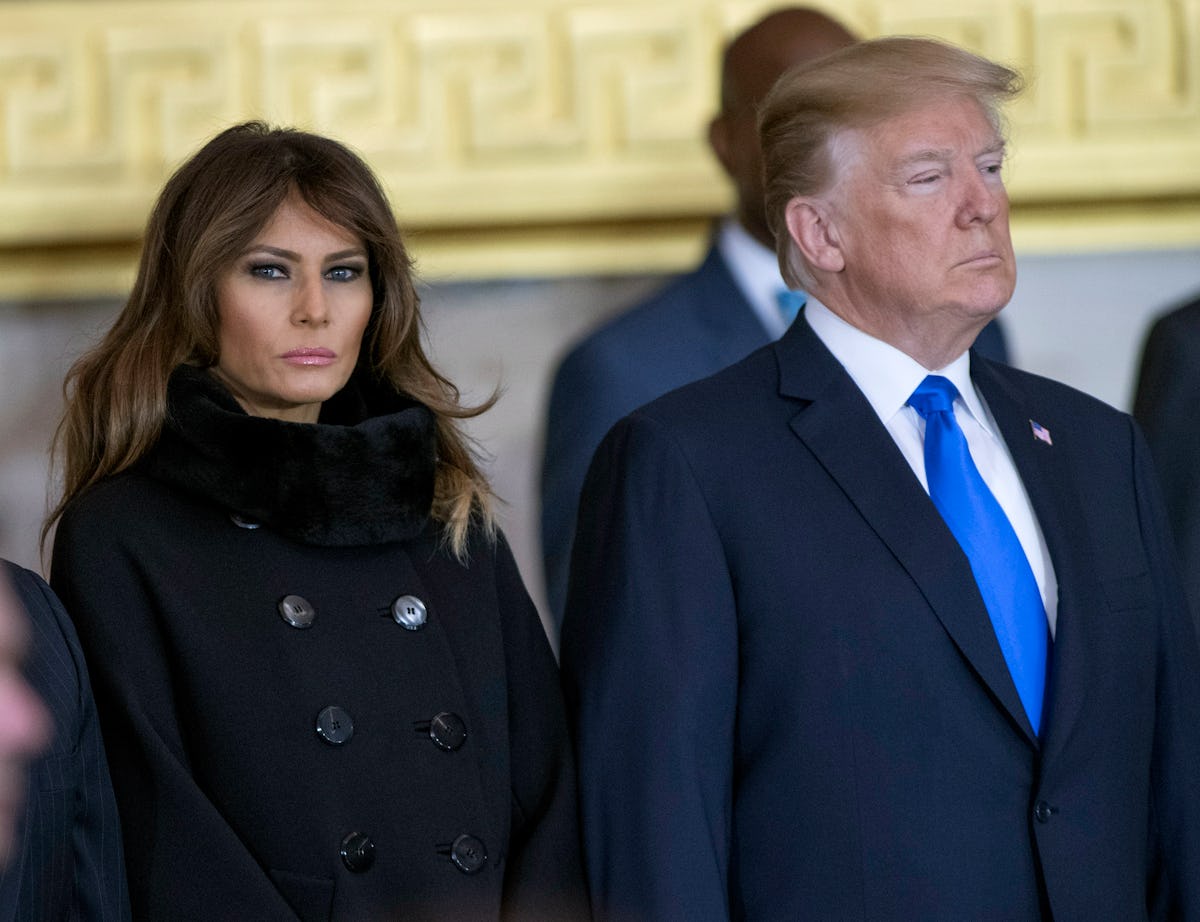 Melania Trump Was Granted A Visa For Her "Exceptional Ability" As A Model
Pool/Getty Images News/Getty Images
For a while now, few details have been known about exactly how Melania Trump gained residence in the United States and, later, U.S. citizenship. The picture just got a little clearer, though, after a report from The Washington Post detailed the circumstances under which Trump was granted a green card in March 2001. So, how did Melania Trump get a visa?
According to the Post, the process began in 2000, when Trump (then still Melania Knauss) began petitioning the government for a green card under the EB-1 visa. The EB-1 visa program is named such because it relates to employment-based immigration.
"We called it the Einstein visa," Bruce Morrison, a former House Democrat who helped write the law that defined EB-1, told The Washington Post. Albert Einstein was indeed granted a visa in 1932, when the German-born scientist sought immigration as Nazi Germany rose to power.
That little historical fact makes sense out of how the visa is described by the federal government online.
The official website for the U.S. Citizenship and Immigration Services, which is under the Department of Homeland Security (DHS) states, "You may be eligible for an employment-based, first-preference visa if you have an extraordinary ability, are an outstanding professor or researcher" — hello, Einstein — "or are a multinational executive or manager."
The DHS site goes on to state that people eligible to receive a green card under the EB-1 visa should either possess "extraordinary ability," be "outstanding professors and researchers," or be a "multinational manager or executive."
Melania was neither of the latter two — at least not to public knowledge — so it appears most likely that she was awarded a green card due to "extraordinary ability" exception.
The eligibility requirements for the "extraordinary ability" visa read, "You must be able to demonstrate extraordinary ability in the sciences, arts, education, business, or athletics through sustained national or international acclaim. Your achievements must be recognized in your field through extensive documentation. No offer of employment is required."
"Mrs. Trump was more than amply qualified and solidly eligible," Michael Wildes, an attorney for Melania Trump and her family, told The Washington Post.
In order for a person to be granted a green card under EB-1 for extraordinary ability, the person must meet three out of a set of 10 qualifications. That list of qualifications includes "evidence of receipt of lesser nationally or internationally recognized prizes or awards for excellence," and "evidence of published material about you in professional or major trade publications or other major media."
Wildes did not disclose what qualifications Trump cited before obtained the green card, The Post reports.
At the time that Melania Trump had been pursuing a green card, she had already been in a relationship with President Donald Trump. The two had met in 1998, during a New York Fashion Week party at a Manhattan nightclub.
Donald Trump would recall the moment during a 2005 interview with Larry King, saying,
I went crazy. I was actually supposed to meet somebody else. There was this great supermodel sitting next to Melania. I was supposed to meet this supermodel. They said: Look, there's so and so. I said: Forget about her. Who is the one on the left? And it was Melania.
By the time Melania Trump obtained her green card, she had appeared in a Sports Illustrated swimsuit edition. She was also a model and had been on a billboard in Times Square, advertising Camel, the cigarette brand, according to the Post.
Obtaining a green card under EB-1 gave Trump the ability to sponsor the immigration of her parents, who are currently nearing full citizenship. In other words, Trump had the ability to help her parents come to the United States via the same process that President Trump has referred to as "chain migration," and advocated to eliminate.
It has not yet been confirmed whether Melania Trump sponsored her parents' immigration push.